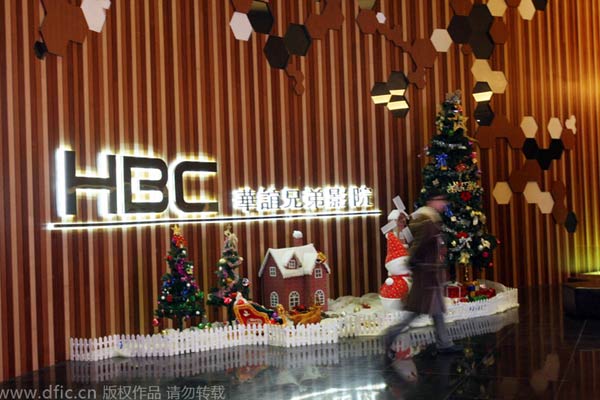 A Chinese moviegoer walks at a branch of HBC (Huayi Brothers Cinema) of Huayi Brothers Media Corp in Shanghai, Dec 19, 2013. [Photo/IC]
China's largest private film company Huayi Brothers Media Corp plans to launch an animation division, to produce and distribute animation films with rich Chinese characteristics.
The new animation unit will be led by Joe Aguilar, a former executive producer at DreamWorks Animation LLC and Twentieth Century Fox Film Corp. Hollywood veteran Markus Manninen, who was the visual effects director of Kung Fu Panda 3 and The Croods, will serve as the company's art director.
"The establishment of the company signifies that Huayi will enter the animation film industry with world-class production skills, and its original production capacity will be further improved," Huayi said in a statement.
The Chinese entertainment conglomerate said the startup animation unit will be based in Shanghai. It plans to launch its first animated movie in 2017, and then produce four films annually, with an aim to develop projects mainly for the Chinese market.
Animation has emerged as a popular genre in the booming Chinese box office. Aguilar helped develop Kung Fu Panda 3, which grossed nearly 1 billion yuan ($150 million) in China.
Disney's latest animation Zootopia is currently topping China's film market, and it is expected to become the highest-grossing animation film in the country.
Movie mogul and Huayi Brothers General Manager Wang Zhonglei said that animation films are more likely to go beyond the boundaries of culture and age, and it is easier to develop film series and derivative products, according to North American film market experience.
Meanwhile, he said the move will enrich Huayi's content creation reserve, and it will pave the way for the company to make further inroads into the international market and strengthen the operation of its film business.
In 2014, technology giant Alibaba Group Holding Ltd and Tencent Holdings Ltd agreed to invest a combined 2.8 billion yuan to raise their stakes in Huayi. Ping An Insurance Group Co Ltd of China and CITIC Construction Co have also raised their holdings in the company.
In February, record Spring Festival box office takings produced revenues of more than $1 billion, with China, the second-largest film market, surpassing the total in North America. The increase in the number of screens in China has contributed to the sales growth.
Industry sources said that China's movie market is now paying greater attention to animated films, with some recent releases grossing remarkable box offices.
Huayi is actively seeking new opportunities, and is betting on the economic opportunities of the animated movie market. It has gained some Hollywood film production resources, but the potential of its new animation unit has to be tested.
Last year, Huayi, a significant player in the mainstream Chinese film market, achieved revenue of 3.9 billion yuan, jumping 63.3 percent year-on-year, according to the company.
Shares in Huayi dipped by 0.86 percent to close at 24.1 yuan on Tuesday.