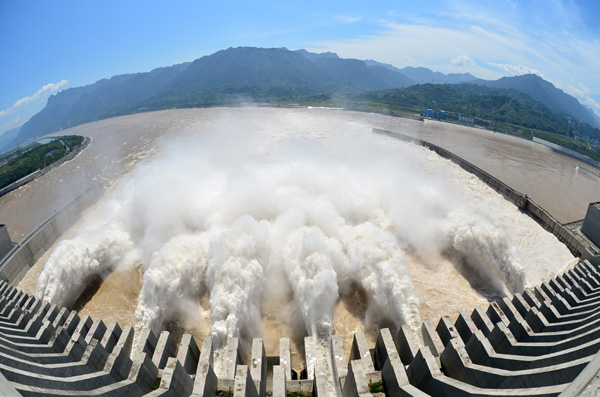 The sluice gates of the Three Gorges Dam. [Photo/Xinhua]
Hydro station likely to become one of the biggest in the world
A consortium, led by China's Three Gorges Corp, the world's largest hydropower producer, is preparing to bid for a contract to build and operate an 8,000-megawatt power station in Brazil, a top official said.
When bidding opens for the hydroelectric dam on the Tapajos River, the Chinese consortium will be a strong contender, said Wang Shaofeng, executive vice-president of China Three Gorges International Corp, a Beijing-based subsidiary of CTG.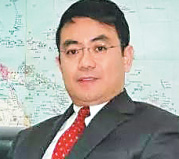 Wang Shaofeng, executive vice-president of China Three Gorges International Corp. [Photo provided to China Daily]
"We have been present in the Brazil's hydropower market for several years. For most of the projects, we participated it is through capital investment," he told China Daily in an interview.
"But with our rich experience we can do more in Brazil," he said, referring to construction of one or two hydropower projects in the region.
The Tapajos dam will become one of the world's 10 largest hydropower projects after completion, he said.
Brazil, the second-largest producer of hydroelectric power in the world, has become high in CTG's investment portfolio, as the country strives to build dams to meet its growing energy demand.
At least 40 large dams are being built or planned in the Amazon, according to local media.
Earlier last year, CTG won 30-year concession rights to operate two major hydroelectric projects-Ilha Solteira and Jupia plants-in Brazil, with a total investment of $3.7 billion.
They are seen as the best among the 29 hydro projects auctioned by the Brazilian government.
Wang said CTG plans to use Brazil as a base to tap into other South American countries such as Chile, Peru and Colombia, all of which have rich water resources and experience of dam construction.
The builder of the world's largest dam has also set up a Hong Kong-based company named Hydro Global Investment Ltd with the Portuguese power company EDP-Energias de Portugal-as a platform to explore business opportunities of small and medium-sized hydropower projects in the region.
"When we are doing global projects, we are looking at the long-term development and investment, so we are very careful in selecting the projects and conducting them," Wang said.
The executive said the biggest challenge the company faces right now is to deal with the exchange rate fluctuations to prevent risk and increase profit in overseas countries.