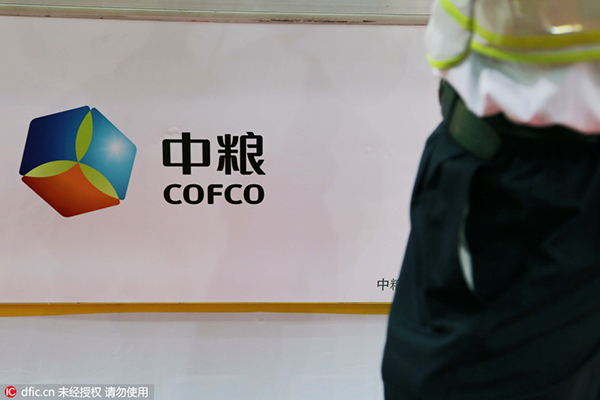 A stand of COFCO during at an exhibition in Shanghai, China, June 11, 2015. [Photo/IC]
China National Petroleum Corp and China National Cereals, Oils and Foodstuffs Corp have signed a strategic partnership agreement to strengthen cooperation in their sales network.
Under the deal, CNPC and COFCO will implement comprehensive cooperation in products, marketing, membership communication and public welfare as well as in new business based on a principle of resource sharing for mutual benefits.
Wang Yilin, chairman of the country's biggest oil and gas producer CNPC, said the cooperation could maximize the advantages of both sides while accelerating business transformation and upgrading.
This is an effective move against the challenge of low oil prices, he said.
COFCO Chairman Zhao Shuanglian said that the cooperation will not only improve the customer experience by better meeting their demand, but also expand the marketing network of COFCO with the tens of thousands of gas stations nationwide owned by the oil giant.
To better integrate the marketing channels, share customer resources and improve consumer experiences, the two sides will also jointly promote online-to-offline cooperation, said the agreement.
The deal is part of efforts to reform State-owned enterprises to ensure stable growth in a slowing economy.
Xiao Yaqing, head of the State-owned Assets Supervision and Administration Commission, said last week that China's SOEs should directly face the pressures of the slowing economy.
The reform for SOEs will mainly be pushed forward through mergers and acquisitions, instead of bankruptcies, and protecting the interests of employees will be a major task in the next step of reform, he said.
The oil giant and COFCO had already launched pilot projects in Beijing, Tianjin, and Hebei, Shandong and Henan provinces.