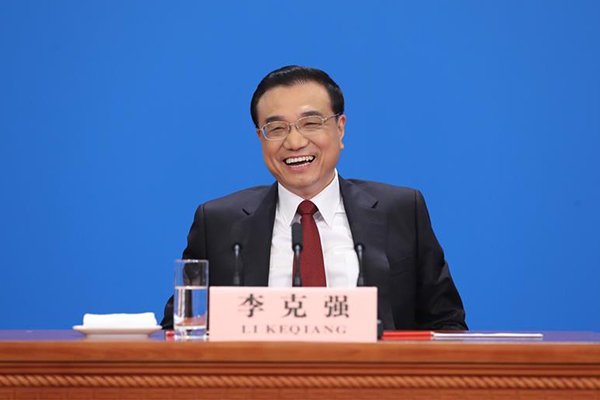 Chinese Premier Li Keqiang reacts during a press conference at the Great Hall of the People in Beijing, capital of China, March 16, 2016. [Photo/Xinhua]
China will cultivate new growth engines to make up for the weakening role of traditional sectors in boosting the economy, said Premier Li Keqiang at a news conference on Wednesday.
"We will develop the 'new economy', that is, we will foster new growth engines to help promote economic restructuring," he said after the closing meeting of the fourth session of the 12th National People's Congress in Beijing.
These new growth engines include not only such emerging industries as the Internet of things, cloud computing and e-commerce, but also state-of-the-art manufacturing, such as intelligent manufacturing and customized production, the premier said. They also refer to innovative integration of agriculture, industry and the tertiary industries in rural areas, involving both micro businesses and big companies, he said.
Traditional growth engines tend to weaken as the economy matures, which has happened in many countries, especially in the developed world. Thus, there is a demand for new emerging industries to arise, together with the traditional sectors, and promote economic growth, Li said.