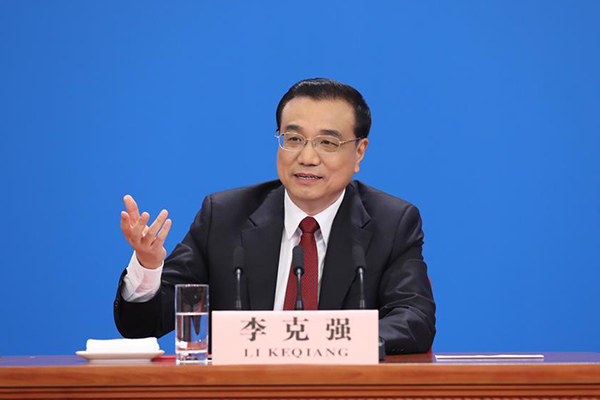 Chinese Premier Li Keqiang speaks at a press conference at the Great Hall of the People in Beijing, capital of China, March 16, 2016. [Photo/Xinhua]
Reuters: The recent volatility in China's stock and currency markets have drawn close attention from international investors. Mr Premier, what do you think are the major problems and challenges facing China's financial markets? What are the Chinese government's plans for future financial markets and strengthening of financing regulation? What major reform steps will be adopted for the development of stock, currency and bond markets in China? Will the recent volatility in those markets hold back China's reform development? And will the Shenzhen-Hong Kong Stock Connect be launched this year?
Li Keqiang: You've had the first opportunity to ask a question, and you made your questions all about the financial sector. That is understandable, as many economic problems first manifest themselves in financial markets. The top priority of the financial sector is to support the development of the real economy. The truth is, the dysfunctional real economy presents the largest risk to the financial markets. Last year, we took a series of steps, including cutting interest rates, and targeted reductions of banks required reserve ratio; these were not quantitative easing measures. At the same time, we also took care to insure that there is appropriate money supply. All these steps will aim at bringing down the cost of financing and enhance the development of the real economy, so I believe the job of financial institutions is to provide better services to the real economy, especially micro and small businesses.
The financial sector also operates according to its own laws, and one should always look out for possible financial risks. Last year, because of the difficulties of companies in some sectors, the nonperforming loan ratio of some financial institutions in China increased, but we are still in the good position to defuse the financial risks because the capital adequacy ratios of commercial banks is still about 13 percent, which is below the international warning line. Those bank's provision coverage ratio is also about 180 percent, which is above the 150 percent level that we set. We also have other market-based tools at our disposal to help bring down the corporate debt ratio. A very high corporate debt ratio is not new in China, as they still raise finances mostly indirectly in China, but we have a high saving's rate. In regard to volatility in the financial market, we're determined to press ahead with the building of a multi-tiered capital market, and we can also used such a market-oriented format for equity swaps to help bring down the corporate leverage ratio.
Last year, due to multiple factors, there were some unusual fluctuations in China's stock markets. Public departments took coordinated steps to stabilize the market and prevent any sustainable financial risk, and our measure achieved the desired result. As to what will the government do the next, with respect to the development of the financial markets in China, a few days ago, our newly appointed chairman of the China Securities Regulation Commission already give elaborate answers to that, so due to time constraints I will not spell them out here. Whether it is stock markets or bond and currency markets, they are after all markets, so we will continue to pursue market-oriented reform and establish a sound, legal framework for the operation of those markets. The government has the regulatory obligation, and we still need to improve our regulatory system in China. First, there needs to be full coverage of financial regulation, as we are seeing an increase in financial innovation products. Second, we need to step up coordination because all these financial markets and products are so highly interconnected, and such coordination must be authoritative. Third, responsibility must be matched with power; governments, departments and local authorities must perform their assigned possibilities conscientiously and promptly handle any possible latent risk, and also guard against moral hazards. Basically, we must sharpen our vision to exercise the most-effective regulation.
Here, I want to emphasize that it will be a process for us to put in place a fully fledged financial regulatory regime, and in this process the various government departments and local authorities must continue to do a diligent job in performing their assigned responsibilities. Well, it is important, but we watch out for possible risks to ensure that the lawful rights and interests of investors and consumers will be upheld. I want to remind the various departments and local authorities that they must to do their job properly, otherwise they will be held accountable. Thank you.