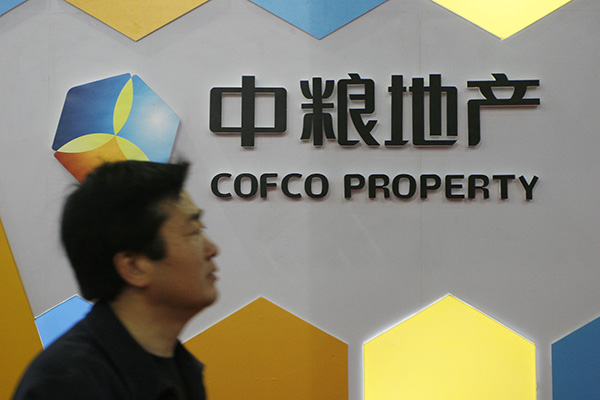 A man walks past the stand of COFCO Property (Group) Co Ltd at an industry expo in Tianjin, China, April 18, 2008. [Photo/CFP]
COFCO Property (Group) Co Ltd plans to raise up to 5 billion yuan ($768 million) in a private placement of shares to fund new projects and to repay debt.
Breaking down the detail, the subsidiary of State-owned China National Cereals, Oils and Foodstuffs Corp will use half the money raised on new housing developments in major cities, and officials said it is already eyeing several high-end sites in Beijing, Shenzhen in Guangdong province and Yantai in Shandong province.
The Shenzhen-based property developer will spend 1.07 billion yuan on a 49 percent stake in Beijing-based COFCO Property Investment Co, and 400 million yuan on taking 100 percent control of COFCO Yantai Borui Real Estate Developmet Co, two of its subsidiaries.
And 1.03 billion yuan will be used to repay loans and to lower its asset-liability ratio, a statement said.
Shao Yufei, an industry analyst with Shanxi Securities Co, said demand for homes remains strong in the first- and second-tier cities, making it sensible for large-scale real estate developers such as COFCO to invest more in the larger population centers including Hangzhou, Zhejiang province, and Nanjing, capital of Jiangsu province.
"COFCO apparently wishes to gain an early hand in enhancing its earnings ability in these cities as it considers those markets will continue to flourish this year, as well as other related businesses including property services and commercial development," said Shao.
China's first-tier cities have enjoyed something of a real estate boom in the first two months of this year, with inventories dropping after the government issued a series of policies including cuts in deed tax and business tax aimed at clearing a property glut across the country.
Home prices in the country's 100 big cities climbed 0.6 percent in January, indicating a recovery in demand, according to the findings of a survey by the China Real Estate Index System released earlier this month.
The average price of a new property was 11,092 yuan per square meter, up 5.25 percent year-on-year, with 61 cities recording month-on-month growth in prices.