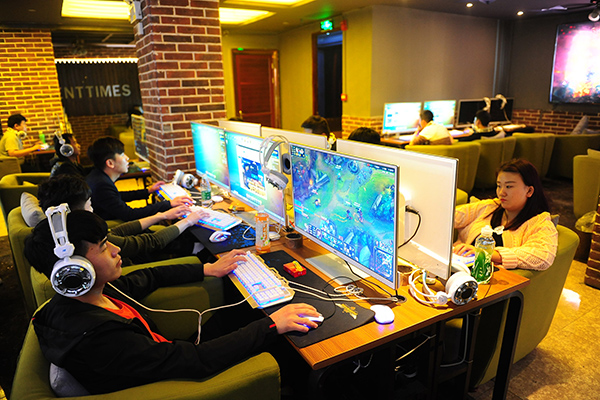 Players at an e-sports cafe in Fuyang, Anhui province, Nov 5, 2015. [Photo/CFP]
The concept of Internet cafes is striking back with a vengeance rather than crumbling away.
A combination of high-tech telecommunications, easy capital and the advent of sophisticated gaming on the back of high-end hardware and software has spawned a mini industry.
According to iResearch Consulting Group, a Beijing-based consultancy, the number of young patrons of this market, which coasts on the rising popularity of e-sports, will increase from 98 million to more than 120 million by the end of this year.
There was a time when a Net cafe was just a cubicle-marked space with several clunky PCs hooked to a buffering-ridden, sluggish Internet line. The proliferation of home PCs, laptops, office broadband, hand-held devices and Wi-Fi hotspots almost made Internet cafes obsolete.
But the Internet cafe somehow found a way to not only survive the tech onslaught but reinvent itself.
Its Version 2016 is a hub where customers double up as players who, using high-end computers with elan, make short work of e-sports contests, and where gaming companies promote their products.
It's a cafe-cum-bar-cum-dessert-parlor, if you will. Cubbyholes no longer, these gaming arenas are spacious halls with comfortable seats, glitzy interiors and advanced hardware, complete with boom-boom audio effects. By the way, Net is incidental.
WYWK, a Shanghai-based chain of Internet bars founded by Huang Feng, opened Wangyu e-sports, its first high-end Internet bar, at Beijing Workers' Stadium in November, with a total investment of 20 million yuan ($3.07 million).
Wang Sicong, son of Wang Jianlin, the richest man on the Chinese mainland and chairman of Dalian Wanda Group Co, is an investor in the firm.
Comprising different sections, including private rooms for couples and teams, its video rooms command entry fees ranging from 12 yuan to 20 yuan per person per hour.
A player gets to use an Apple iMac with a 27-inch screen, hooked to live gaming Websites via high-speed broadband lines. She/he could order drinks and snacks.
Wangyu e-sports hosts up to 300 customers a day. Each visitor's average spending could reach 60 yuan.
"Owing to the rapid growth of e-sports, we are building an e-sports ecosystem comprising gaming companies, e-sports players, social media, hardware manufacturers, e-sports venues and governing bodies," said Huang.
The ecosystem is a venue for e-sports events, complete with a big screen, cameras, and an audience of more than 200.
A typical e-sports event could see 10 players vying for honors. Live Webcast of their competition, complete with anchors, commentators and panel moderators, could generate audiences of gaming enthusiasts worldwide.
"For the young generation, e-sports have become an indispensable part of their recreational lives. There are a lot of players around the world who are keen on e-sports. Many youngsters get their kicks watching e-sports matches. It is a blue ocean of uncontested market space for us," said Huang.
Chen Zhenqian, general manager of Wangyu e-sports, said: "More than 20 e-sports events have been held here by major gaming companies like Tencent Games' League of Legends, DOTA and Heroes of the Storm, created by US electronic games company Blizzard Entertainment Inc. We expect bigger e-sports events will be held here."