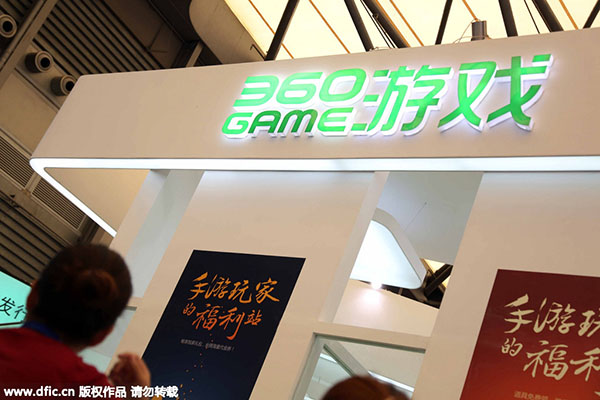 The booth of 360 Game is seen at the ChinaJoy expo, July 30, 2015. [Photo / IC]
Gaming companies from China have discovered new avenues of growth in overseas markets, judging by the substantial increase in exports during recent months, industry sources said.
Out of the 45.83 billion yuan ($7.38 billion) worth of online games produced by Chinese developers in the first six months of this year, 23.8 percent, or $1.76 billion, were exported, a 121.4 percent year-on-year growth, according to the 2015 China Gaming Industry Report released during the China Digital Entertainment Expo & Conference, which opened in Shanghai on Thursday.
Meanwhile, the State Administration of Press, Publication, Radio, Film and Television, the industry regulator, approved the release of 355 online games during the first six months, up 88.7 percent year-on-year.
The rise of domestically developed games has helped boost the Chinese gaming market in general, which saw its size grow 21.9 percent to 60.51 billion yuan in the first half. During the same period, the Chinese movie market was just one-third of that, at 20.3 billion yuan.
According to the report, emerging markets such as Southeast Asia, India and South America where competition is less intense right now were the major targets for outbound Chinese game developers.
West House, a unit of Kingsoft Corp, a Beijing-based software company, for example, is shifting focus from the domestic market and concentrating on overseas markets for three of its latest games.
There are other successful examples in mature markets. Ever since it started cooperation with Xbox in September, Beijing-based Perfect World Network Technology Co Ltd has become even better known among global players with its blockbuster game Neverwinter Online finding audiences in 78 countries and regions. The game retained its No 1 ranking in the North America Massively Multiplayer Online gaming market in the first quarter of this year.
According to Xiao Hong, chief executive officer of Perfect World, the worldwide success of Neverwinter can be attributed to having the right talent and innovation.
"But more importantly, the key to success is combining regional culture with the Chinese culture in the markets the games are exported," said Xiao.
Beijing-based FL Mobile, which specializes in the distribution and operation of mobile games, has also been successful in markets including South Korea.
According to Ni Xianle, the company's co-founder and chief executive officer, strategy games and role-play games are the most popular Chinese developed products in overseas markets.
"Exporting a large number of games is not necessarily the right tactic. All companies will come to realize that only games with the best quality can survive at the end of the day," he said.
There are also some Chinese gaming companies that make most of their profits from overseas markets. Chengdu-based Tap4Fun specializing in mobile games development is the best example.
According to the company, overseas markets contributed 95.87 percent of its total sales revenue last year, while the number in 2013 and 2012 was 94.47 percent and 90.61 percent, respectively.
According to market consultancy AppAnnie, Tap4Fun ranked 45th out of the world's 52 top mobile game developers. Only seven of the shortlisted companies are from China.
Wang Qifan contributed to this story.