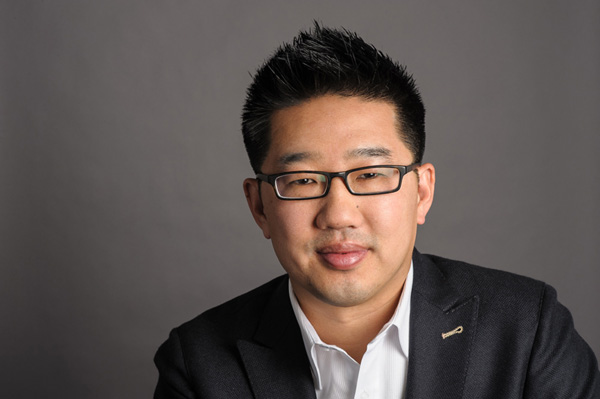 Kevin Chou, chief executive officer of Kabam, said he has changed the firm's strategy since setting up a studio in Beijing in 2010. [Photo/China Daily]
Kevin Chou is convinced the future of entertainment is gaming. As the CEO of Kabam Inc, a United States-based mobile gaming developer and publisher, Chou announced plans in April to launch the company's hit game in China.
Marvel Contest of Champions had been downloaded by more than 30 million users in the first three months since it was launched in December, 2014 in the US. "I think this game can make more money in China than in the US market," Chou said, without revealing the US figure.
Although he is not a major gaming fan, the Chinese-American entrepreneur does have an eye for a good business. That is why he set up the company with two other co-founders, Holly Liu and Michael Li, in 2006.
Already Kabam is the sixth fastest growing company in North America, according to the 2014 Technology Fast 500 list, compiled by Deloitte LLP, the global professional services firm. Last year, the company's revenue was $400 million.
And even though Kabam has yet to make money in China, Chou is confident of success, which is hardly surprising since the company is world leader in mobile games
To make sure Marvel Contest of Champions is a smash hit, Kabam has changed the game for the Chinese market, switching Western characters to local ones and setting up a pricing strategy. Another winning point, according to Chou, is the console-quality of the game.
But, of course, the test will come in the quality of the experience for mobile users. The fantasy action game is based on the iconic Marvel cartoon characters from the Hollywood franchise films such as Avengers, X-Men, and Guardians of The Galaxy.
"It works 60 frames per second-the standard of high-definition movies." Chou said. "So when fighters move, graphics are smooth. You can actually project this game onto TVs and it works quite well."
The games market is China is certainly big business. According to a report by Beijing-based Internet consultancy Analysys International, the mobile gaming market in the country more than doubled to 29.3 billion yuan ($4.7 billion) last year. It is expected to top 41.2 billion yuan ($6.6 billion) in 2015, an increase of 40.5 percent.
It is hardly surprising then that Chou and Kabam are eager to get a slice of that cake. "I think in every gaming market in the world, the graphics really matter," he said. "Just like how the movie industry in China, people want beautiful experiences. They want the highest quality games and we can give them this for free."
Kabam has changed its strategy since setting up a studio in Beijing in 2010. At first, the company, which is valued at $1 billion, decided to take Chinese games to the Western market. But Chou ditched that plan and shifted Kabam's focus to bringing Western games to China. He is now also planning to develop Chinese games for the market here.