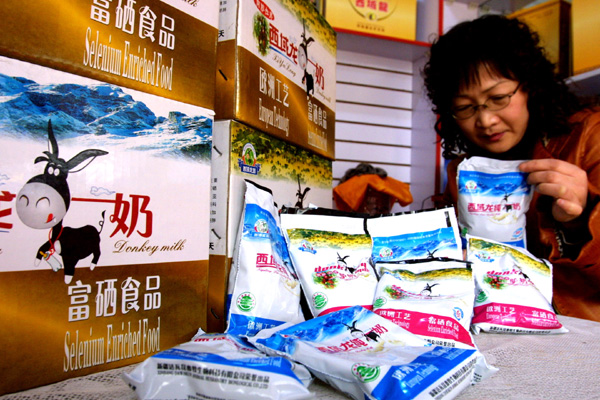 A customer looks at donkey milk products in a shop in Urumqi, the Xinjiang Uygur autonomous region. [Photo/China Daily]
When it came to curing ailments or improve skin care, the ancient Egyptians and Romans used to turn to donkey milk.
In the West and parts of the Middle East, the nutritional and therapeutic power of this dairy product is well known. Now donkey milk is being developed as a consumer brand in China.
"The potential to develop the donkey milk industry in China is big," Zhang Ming, chairman of Xinjiang-based Yukunlun Natural Food Engineering Co Ltd, said. "It just needs time."
Zhang has spent 70 million yuan ($11.29 million) developing donkey milk-related products since 2007. So far, he has managed to break even on his investment.
"In addition to the milk, the meat and the hide are important, and precious materials in China. This will drive the business," he said.
The hide is often used for ejiao, a traditional Chinese medicine, dating back more than 2,000 years. It is known to improve blood circulation and boost energy levels. As a beauty product, it is popular with women.
But with the donkey population shrinking, ejiao producers are investing in donkey farms. One company, Dong'e Ejiao Co Ltd, plans to raise one million donkeys by 2020.
"Developing the donkey market will boost the industry and help dairy farmers in the sector. Donkey milk output will increase," Zhang said.
The high cost of buying fresh milk is the biggest problem that stops businesspeople from developing donkey-related dairy products.
Zhang buys donkey milk from farmers at 28 yuan per kilogram. The retail price for donkey milk powder is around 4,000 yuan per kg, double the price of imported cow milk powder, according to Zhang.
"Donkey milk cheese is sold at $800 per kg by a small company in Serbia," Zhang said. "Few people can afford the high price. That's why donkey milk has yet to take off here."
In addition, a dairy donkey yields just 1.5 to 2 kg of milk a day, much less than the 70 kg a quality cow can produce. "If you want to keep farmers raising donkeys for dairy products, you have to raise the price of collecting fresh milk to 45 yuan per kg," Zhang said. "It's a price few businesspeople would accept (initially)."
Even so, Zhang is committed to the business and is branching out to overseas markets. Some Japanese and South Korean companies have begun to purchase Zhang's donkey milk through their Chinese agents for cosmetic research.
"A Japanese company bought more donkey milk products earlier this year. They had spent the last 12 months using the products on tests for new high-end cosmetic," Zhang said.