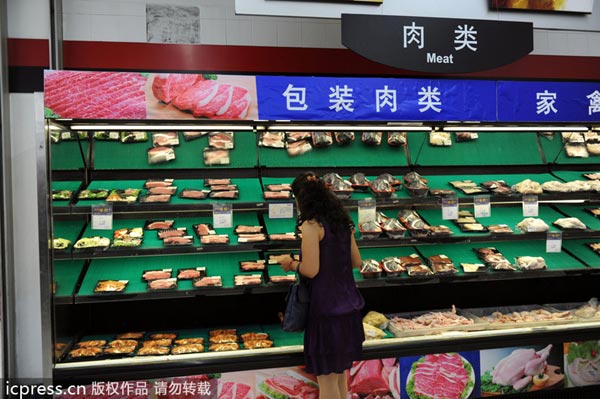 File photo of a women selecting meat product at Wal-Mart in Jinan. [Photo/icpress.cn]
Wal-Mart, the world's largest retailer by sales, has recalled donkey meat sold at some of its outlets in Jinan, Shandong province, after DNA tests showed the product contained meat from other animals.
The person in charge of the supplier factory, Shandong Dezhou Fujude Food Ltd Co, has been detained, and the company has suspended its production.
Wal-Mart will reimburse customers who bought the tainted "Five Spice" donkey meat, according to a statement from Wal-Mart.
The Shandong Food and Drug Administration said the product contained fox meat.
The retailer said it had set up an investigation team headed by its China president and CEO, Greg Foran.
"We are deeply sorry for this whole affair," said Foran. "It is a lesson for us that we need to continue to increase investment in supplier management."
Wal-Mart said it will strengthen investment to enhance food safety by adding DNA testing of meat products, which are not required by the nation's standards.
But Hermann Ng, CEO of Retail Nation, a retail consultancy in Shanghai, said it is challenging and unrealistic for retailers to analyze fresh products by testing the DNA of meat products. He said Wal-Mart has reduced its meat suppliers from more than 300 to about 120 in an effort to control the quality.
China Market Research Group estimates Wal-Mart's market share fell from 7.5 percent to 5.2 percent over the last three years.
Wal-Mart said in 2013 it would open 110 new stores in the next three years in China and invest 100 million yuan ($16.5 million) in the same time period to improve its food safety management.
In 2011, a Wal-Mart store in Chongqing was fined for selling duck meat past its expiration date.
Reuters and Hou Liqiang contributed to this story.