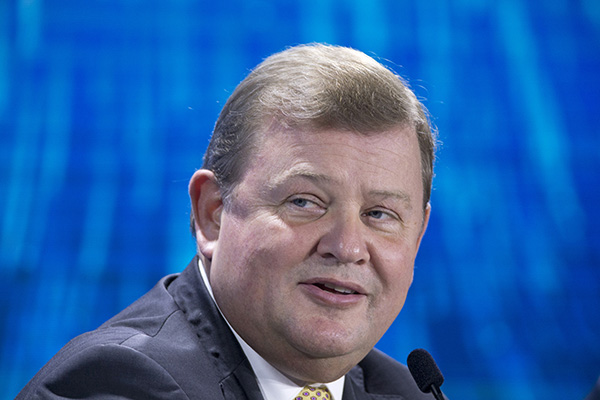 Feike Sijbesma, chairman and chief executive officer of Roral DSM NV. [Photo/CFP]
The world's largest vitamin maker, Royal DSM NV, will continue investing in life sciences business in China as the market for nutrition supplements expands, the company's chairman and chief executive officer said.
Feike Sijbesma said the Dutch company's plans include launching of new manufacturing plants, opening of research and innovation centers as well as hiring of more local talent.
China is now one of DSM's fastest-growing markets with sales of 937 million euros ($1.026 billion) in 2015, up 12 percent from 833 million euros in 2014, according to the company's annual results.
In 2015, DSM finalized acquisition of Aland, a Hong Kong-based vitamin C manufacturer, further strengthening its position.
As China is undergoing the supply-side reforms, when consumers are trading up for better nutrition and better food, DSM sees growth potentials in the sector, Sijbesma said.
The company is also expanding its factory in Tongxiang, Zhejiang province, which produces gellan gum, a stabilizing and texturizing agent used in a wide variety of foods and beverages.
Analysts said the Chinese market for nutrition supplements, food and other products is growing at a fast pace along with rising consumer awareness about them.
The annual compound growth rate is expected to exceed 10 percent in the next five years, according to data from Beijing-based market information research firm Zhiyan Information Ltd.
Data from the China Nutrition Societies showed that in 2015, the health-related products market, including protein, vitamins, fish oil and other supplements in China exceeded 400 billion yuan ($61.24 billion) and the size is going to double by 2022.
"I am not with the people who are overconcerned with economic slowdown. I am still positive about China's underlined fundamentals with consumption-driven growth, talent with knowledge who can contribute to innovations and consumers willing to spend more amid urbanization," said Sijbesma.
He said DSM is also developing an animal nutrition business to meet the demand for quality ingredients and additives for animal feed, as Chinese consumers demand more, better and safer sources of nutrition from meat and eggs.
DSM now regards China not just as a consumer market for the company as the country is a hub for manufacturing as well as innovations for the company's global operations.
The company has long-term commitment to develop and grow in China where urbanization, leadership and growth of knowledge are making the fundamentals promising, said Sijbesma.
A striking example, he added, is that DSM is now expanding its materials business in China through leveraging from local innovation resources to support its global operations and become stronger together with its partners in China.