History suggests every once in a while, teenage prodigies-think tennis ace Boris Becker and chess champ Viswanathan Anand-take the multi-billion-dollar sports-and-games industry by storm, winning adults' titles, raking in millions of dollars and cultivating countless fans.
Now, Chinese teenager and e-sports superstar Jian Zihao, 17, has gone one step further and, by dint of his sheer brilliance, created an altogether new lucrative online market for digital game Webcasts.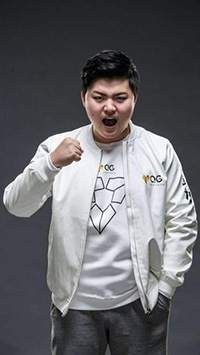 Jian Zihao, 17, an e-sports superstar, plays the League of Legends at a professional competition. [Photo/baike.baidu.com]
"Just like basketball and tennis players, e-sports professionals who stand out in international competitions are becoming celebrities, and have lots of fans," said Xue Yongfeng, a senior analyst at Beijing-based Internet consultancy Analysys International.
According to a Website that tracks the income of global professional gamers, China topped the list of e-sports earnings in 2015: Some 650 gamers raked in more than $14 million in prize money.
An estimated over 120 million Chinese love electronic games such as The League of Legends and Dota 2. Their number is expected to rise this year, Analysis International said in a report.
And to think multi-millionaire Jian, not very long ago, used to receive sound thrashings from his parents for "being addicted to online games".
Their fear was the addiction would mess up his mind and life. But little did they, or he, expect that playing video games would make him rich and famous at such a young age.
While his peers continue to struggle with English grammar at high school, Jian has emerged as one of the world's best gamers. His success has institutionalized electronic sports as both a legitimate career option for youngsters and a viable business.
"I have two incomes: one from the Newbee club where I am a professional e-sports player, and another, bigger flow from Quanmin.tv (an online streaming service featuring live video games)," Jian said.
He keeps details of his earnings under wraps, except throwing a hint that his signing bonus with Quanmin.tv was between six and seven figures. His task is to stream at least 60 hours of live video gaming per month. To be precise, he has to play the League of Legends, a popular online battle arena game that is considered tough for even adults.
Despite being just 17, Jian has made it to the League of Legends World Championship finals twice already. It's an annual tournament for professionals hosted by the game developer Riot Games.
Jian is among the growing number of players who are benefiting from China's gaming boom. Video games, as a spectator sport, are gaining in popularity with every passing month.
"China's electronic sports industry is growing rapidly, chiefly stimulated by the growing base of game lovers," said Xue of Analysys International.
Just as some ex-champs evolved into successful pundits, commentators or broadcasters-think Becker again-e-sports heroes are morphing into gaming Webcast anchors for their clubs.
Tong Xin, manager of Newbee club, said: "More than 20 percent of our 40-odd e-sports athletes stream online, explaining how they play their game. The club offers training courses to them on Webcast etiquette, like how to present themselves before the camera, talk with fans, so on."
Exposure to eyeballs translates into money-spinning celebrityhood for players and ex-champs. For instance, Yu Jingxi, the former world champion of League of Legends and currently a broadcaster on Panda TV, doubles up as the spokesman-brand ambassador, if you will-of at least four online shops that sell gaming hardware like mice, handsets, keyboards and other products like snacks, clothing and sports shoes. These products bear Yu's images and autographs, and are well-received among young people.