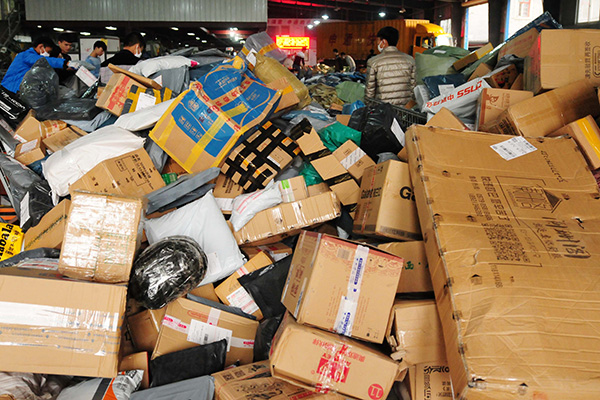 Workers sort packages at an express delivery firm in Jiujiang, Jiangxi province. E-shopping transactions reached 3.96 trillion yuan in 2015 and the volume is likely to surpass 6 trillion yuan this year. [Photo/China Daily]
A package I recently received from an e-tailer helped me truly understand what "intensive care wrapping" means.
It came inside plastic bags, foam and cartons, and was sealed with layers of adhesive tape. The wrapping filled up my rubbish bin.
Experts estimate that if a single package weighs 200 grams, the total weight of the 20.6 billion express parcels sent in China last year will amount to around 4.12 metric million tons. That could occupy more than 200,000 soccer pitches and the tape used to wrap these parcels would circle the Earth more than 300 times.
The packaging materials, plastic tape and foam need more than 100 years to dissolve if buried without treatment and can produce harmful dioxins if incinerated as ordinary garbage.
How should we handle this fast-growing mountain of packaging waste? Should we just dump it or carefully recycle it? Who should shoulder the responsibility for this? This is becoming a hot issue in society.
A Chinese idiom says that whoever started the trouble should end it. The express packaging waste problem requires both careful analysis and an effective solution.
E-commerce, a sector which has recently witnessed rapid growth, has seriously challenged the business of traditional bricks-and-mortar stores. Led by giants such as Alibaba Group Holding Ltd's T-mall.comand JD.comInc, total online shopping transactions reached 3.96 trillion yuan ($609 billion) in 2015, more than 10 percent of the total retail sales volume. In 2011, online sales raked in 784.5 billion yuan, and the volume is expected to surpass 6 trillion yuan this year, according to chinabgao.com, a Beijing-based provider of market research reports.
Growth in the number of parcels delivered to online shoppers also showcases the fast-growing trend of e-commerce, which provides easy access to one of the world's largest selections of online goods on one single platform and at very competitive prices.
In 2014, some 14 billion parcels were sent to online shoppers and the figure jumped to 20.67 billion in 2015. The volume for 2016 is expected to reach 27.5 billion, according to the State Postal Bureau.
It took China 26 years for express deliveries to reach the 1 billion mark, eight years for the figure to rise from 1 billion to 10 billion, and only one year for it to double from 10 billion to 20 billion items. All of this is thanks to e-commerce, which has propelled the rapid ascent of the express delivery companies.
The annual business volume of some leading express delivery companies, such as SF Express Group Co Ltd, Zhongtong Express and Shentong Express, has reached 2 billion yuan, and they are preparing for public listings to fuel further expansion.
A report from the China Business Information Network showed that, to send the 20.6 billion express parcels last year, the list of necessary items included 20.6 billion delivery sheets, around 11 billion bags, 3 billion paper envelopes, 9.6 billion cartons, 16.5 billion meters of adhesive tape and 2.9 billion pieces of padding.
All these materials for express service deliveries, if carefully sorted, can be recycled as renewable resources. There is no real rubbish, there are only wrongly placed renewable resources.
However, relevant industrial sectors and even society as a whole have not offered the proper solutions to handle the massive amount of packaging waste generated by such high-speed growth of e-commerce.
Collecting and recycling renewable resources are a public welfare business in developed economies such as Germany, Japan and South Korea, which have issued strict regulations on express commodity packing. We can take their experiences as food for thought.
I think the government should improve guidance and implementation supervision of relevant regulations to forbid the use of substandard or excessive packing and the production of environmentally unfriendly packaging materials.
And it is high time for the government to encourage the research, development and use of smart, environmentally friendly packaging materials, to ensure all packaging waste can be easily recycled into renewable resources.
E-commerce calls for smart and green express packaging solutions.
We welcome e-commerce for all its convenience and various benefits. But we cannot afford and neglect the high environmental costs.