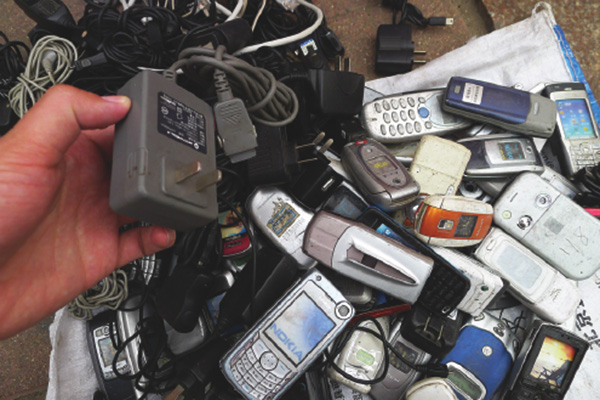 Piles of discarded mobile phones and chargers collected by a recycling vendor in Qingdao, Shandong province. [Photo/China Daily] 
Firms that recycle tons of old gadgets may hit pay dirt if subsidies and venture capital come their way, say experts
Ever wondered what happens to millions of old mobile phones, laptops and other assorted hardware junk as a billion-plus consumers buy new devices every once in a while?
Well, these days, old devices, millions of them, find their way to online platforms such as Aihuishou.com and Ihuigo.com. Such platforms either channel them to recycling firms if they are deemed low-value items or resell them as used-goods at attractive prices.
Chen Xuefeng, founder and CEO of Aihuishou.com, an online electronic products recycling platform, said: "At present, about 10,000 mobile phones are recycled every day on our platform. When iPhone 6S was released not long ago, that number more than doubled to over 20,000 per day."
About 20,000 mobile phones are recycled each month on Ihuigo.com, which was established in 2010 by Zhou Xu. The company brokers deals valued at up to 20 million yuan each month. On its site, the average price of a recycling deal is 800 yuan.
That recycling of discarded electronic products has become a legitimate business has been known for some time. But what is little known is that the business is now attracting serious funding from investors.
In August, Aihuishou.com, which connects electronics consumers with recyclers, secured $60 million in Series-C funding from Tiantu Capital, JD.com and Greenwoods Investment.
Chen and Sun Wenjun, both Shanghai-based Fudan University graduates, founded Aihuishou.com in 2011. "E-waste recycling is a huge market. In the past, the cell phone recycling trade relied on individual vendors who lacked transparency and credibility," said Chen.
It is a view that finds echo in even consumers such as Song Wei, a 50-year-old Apple fan from Shanxi province.
Song is considering upgrading to an iPhone 6S from iPhone 5. "I plan to sell my old phone. But I don't trust street vendors who engage in mobile phone recycling. I will probably choose a formal channel that offers a clear price for old phones."
Chen's assurance should comfort Song. "Online recycling platforms provide users with a reliable recycling channel with transparent prices as per different models, colors and functions of mobile phones."
Scope for such activity is enormous. China has 1.286 billion mobile phone users in 2014. Some 452 million mobile phones were shipped domestically in 2014. New mobile subscribers last year were only 56.98 million.