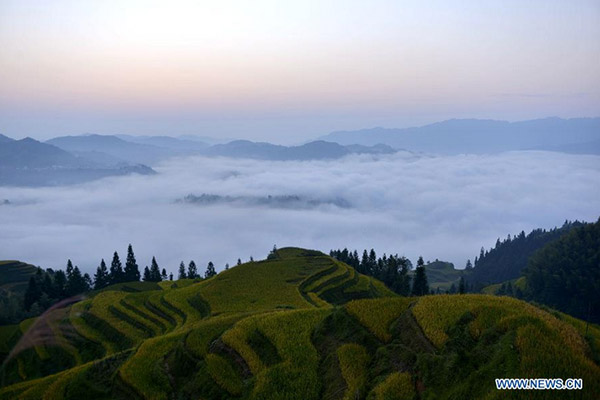 Photo taken on Sept 16, 2015 shows a view of the Yueliang Mountain in southwest China's Guizhou province. [Photo/Xinhua]
Last year Ouyang Yun followed the route of many other successful young professionals in China, and returned home to start his own business.
Originally from Guiyang, the capital of Guizhou province, the 39-year-old in September became the general manager of Guizhou-Cloud Big Data Industry Co Ltd, a specialist big-data management and industry development outfit.
"Starting a business where I was born seems to be a Samsara," said Ouyang, referring to the repeating cycle of birth, life and death often referred to in many religions.
Ouyang first left Guiyang to study when he was just 19 years old.
After graduating from Central South University in Changsha, Hunan province, and Beijing's Tsinghua University, he worked as a senior manager at different foreign companies.
"Although I have worked away for many years, I always remain interested in the development of my hometown and had ideas of going back to start a business there one day."
But turning his back, eventually, on a successful position most recently in Shanghai to return to his roots was decided on a lot more than just romantic hometown loyalty.
Like many others, doing the same across China today, Ouyang was tempted back by what was offered by the local authorities: Policy support for innovation and entrepreneurship.
Since 2010, Guiyang has introduced a series of measures based on offering financial support and introduced 2,683 high-level talent from diversified fields.
Since the start of this year, big-data industry entrepreneurs in the city have been able to apply for startup funding worth up to 5 million yuan ($766,870), for instance.
Universities and existing companies have also been encouraged to set up big-data training bases, again helped with local government funding of between 500,000 yuan and 2 million yuan.
Ouyang said he is confident that Guizhou's burgeoning big-data industry will continue to flourish and grow, helped especially by its low costs compared with more established tech centers in China.
"In the past, people often regarded Beijing, Shanghai and Guangzhou as the great entrepreneurial destinations-but I am positive the actions being taken by Guizhou and other similar cities will continue to lure people to start businesses in their own hometowns," he said.
China's three northeastern provinces of Heilongjiang, Jilin and Liaoning have also launched plans to attract startup talent to spearhead their own industrial upgrading.