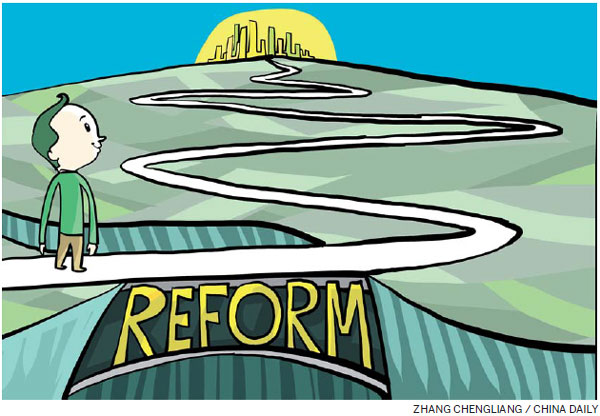 China has been mulling over new measures to smooth the ongoing reforms to combine more State-owned enterprises (SOEs), as part of a sweeping plan to cut overcapacity and improve efficiency in the lumbering state giants, the China Securities Journal reported on Thursday.
Industries such as nuclear power, aerospace, shipping, defense and high speed rail are expected to become the main targets of strategic restructuring in the second half of this year, the report said.
June alone saw major progress in multiple merger cases among State companies. Baoshan Iron and Steel Co and Wuhan Iron and Steel, two of the country's largest steelmakers, announced on Sunday to suspend share trading on the Shanghai Stock Exchange amid ongoing reshuffling.
China Minmetals and China Metallurgical Group, both ranked in the Fortune Global 500 list, held a restructuring meeting earlier this month, a key step forward in what would be the largest merger in the country's metals sector.
Meanwhile, several other listed SOEs, including CEC CoreCast Corp, Ningxia Orient Tantalum Industry Co. and CNPC Jichai Power Equipment Co, have announced plans to restructure in the near future.
"SOE reforms have entered an operating phase, and a slew of measures will be rolled out in the next few months," Shenwan Hongyuan Securities analyst Wang Sheng told the newspaper, adding that at least six companies would be set to restructure in the second half of the year.
Xiao Yaqing, chairman of the State-owned Assets Supervision and Administration Commission, said earlier this year that reforms would make SOEs stronger while also eliminating duplication, a process in which many interests will be well-balanced, especially those of employees.
The regulator cut the number of enterprises from 112 to 106 last year, which included high-profile mergers between China Ocean Shipping Group and China Shipping Group, as well as two train makers.