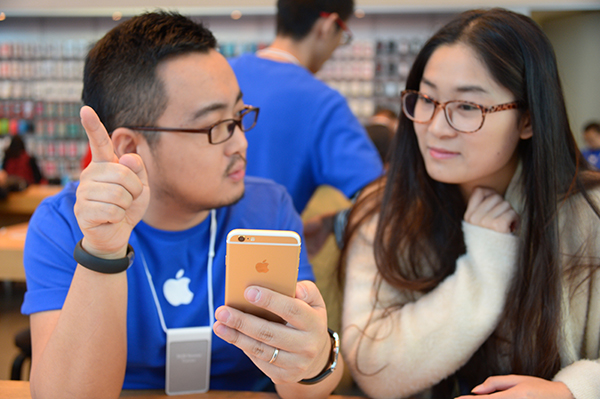 A salesman demonstrates an iPhone 6 during its launch in Beijing in October 2014. [Song Jiaru/For China Daily]
Domestic companies bulk up patent portfolios through deals, acquisitions or intense research
Apple Inc's loss in a Chinese patent dispute may spell more legal trouble ahead as fast-rising local rivals get bolder in taking on the world's largest technology company.
The Beijing Intellectual Property Office ruled last week that some Apple devices violate the design patents of little-known Chinese smartphone vendor Shenzhen Baili. While the iPhone maker appealed to keep its best-selling gadgets on the market, it could face a rising tide of lawsuits and a threat to its sales if the ruling creates a precedent, according to Counterpoint Research.
The ruling is the latest headache for Apple in China, where it already faces aggressive rivals and a slowing economy in its biggest market outside the US. The nation's patent and intellectual property courts have already ruled against the company over the name of iconic products such as the iPhone.
Baili is just one of scores of smartphone brands trying to cash in on the country's mobile boom. Legitimate lawsuits are on the rise as Chinese companies build up their intellectual property through research and development, said James Yan, Beijing-based research director at Counterpoint. Apple should sell about two to 3 million units of the iPhone 6 and iPhone 6 Plus in each of the second and third quarters in China, about 30 percent of overall sales, Counterpoint estimates.
"Chinese makers have been building their own IP pools over the past years and are able to somehow fight against industry giants," he said. "Apple isn't willing to publicly lose an IP case in China and the best option for them is to offer settlement fees."
Xiaomi Corp and Huawei Technologies Co Ltd are among those that have bulked up their patent portfolios, through deals with foreign companies, acquisitions or intense research. Beijing-based Xiaomi alone applied for more than 3,700 patents in 2015 and this month struck a deal for nearly 1,500 patents with Microsoft Corp. In May, Huawei filed a patent lawsuit against Samsung Electronics Co in the US and China.
Apple representatives in China didn't respond to Bloomberg's multiple e-mails seeking comment. Kristin Huguet, an Apple spokeswoman, last week said the company had appealed the ruling and its products are available for sale in China.
The defeat is striking also because Apple aggressively defends its technology patents, most notably in a series of lawsuits across four continents against arch-foe Samsung.