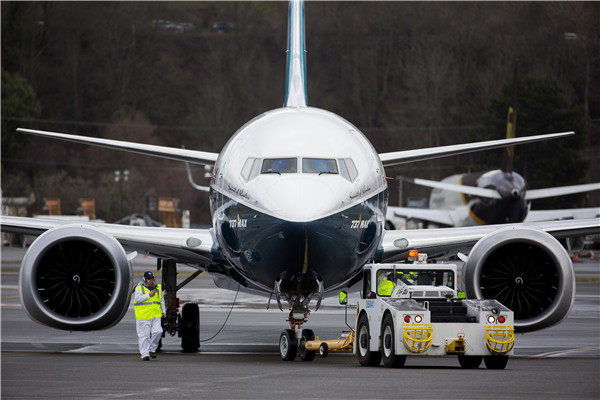 Ground staff tow in a Boeing 737 jet after landing at King County International Airport in Seattle, Washington. [Photo/Agencies]
Airlines acquire more planes to carry passengers from new economies
The skies above Asia are set to get more crowded during the next 20 years, as airlines acquire more planes to fly increasing numbers of passengers from developing economies. That timing couldn't be better for aircraft leasing company BOC Aviation Ltd.
BOC Aviation, an arm of Bank of China Ltd, is scheduled to debut on the Hong Kong Stock Exchange on Wednesday after raising HK$8.7 billion ($1.1 billion) in an initial public offering. The company sold new and existing shares at HK$42 apiece, in Asia's second-biggest IPO this year, and it plans to use the proceeds to help pay for new planes.
As airlines serving the Asia-Pacific region move to triple their fleet, they're finding it can be cheaper to lease jets instead of buying them from Boeing Co or Airbus Group SE. And for BOC, the leasing business can be more lucrative than running an airline, helping explain why conglomerates led by Hong Kong billionaires Li Ka-shing and Cheng Yu-tung are entering the field.
"The Chinese are getting into leasing as they see huge potential in their own market, as well as Asia Pacific," said Shukor Yusof, founder of Endau Analytics in Malaysia. "They are flush with cash."
The share offer has attracted such investors as Boeing and sovereign wealth fund China Investment Corp, according to terms of the deal obtained by Bloomberg.
Airlines in Asia will fly more than 16,000 planes within 20 years, almost tripling the current number, according to estimates by Boeing. BOC Aviation, the biggest lessor in the region, has 270 planes, underscoring the growth prospects in what is set to be the world's largest aviation market.
In the past 30 years, the number of aircraft owned by operating lessors jumped 11 percent annually, according to Singapore-based Phillip Capital Pte. That's double the pace of growth in the commercial fleet, where 40 percent of jets are leased.
At the end of last year, BOC Aviation had 241 planes on order.
"In Asia Pacific, we're seeing very good demand for aircraft," said Robert Martin, chief executive officer of the Singapore-based company, said. "When we talked to investors, what they said to us is that they really want an Asian champion to come to the market."
The leasing business traditionally was dominated by companies including General Electric Co-backed GECAS and ILFC. A new breed of Asian companies are coming in to challenge them. Among them are BOC and Sumitomo Corp-backed RBS Aviation.
"There is no reason Asian growth should not be married with Asian financing," said Will Horton, a Hong Kong-based analyst at the CAPA Center for Aviation.
"Dominance and forcing a pivot away from North America and Europe can follow."
BOC Aviation's customers include IAG SA's Vueling Airlines SA, Iberia, Southwest Airlines Co, Aeroflot PJSC, EVA Airways Corp, Singapore Airlines Ltd's India affiliate Vistara and WestJet Airlines Ltd, according to Bloomberg Intelligence.
BOC Aviation is poised to benefit from rising demand in China, India and Southeast Asia, where higher incomes prompt more people to fly. India was the fastest-growing air travel market last year, expanding more than 20 percent, according to Montreal-based IATA. That compares with 10 percent for China and less than 5 percent for the United States.
BOC Aviation purchases aircraft from manufacturers and then leases them to airlines for a monthly fee. After a certain period, the airline returns the aircraft, which typically is leased to another carrier.
Support from Bank of China makes financing cheaper by providing low-cost capital, giving BOC Aviation a "sharp competitive edge", said Fan Guohe, an analyst at Phillip Capital, in a research note.
BOC's cost of debt was about 2 percent in 2015, the lowest among its publicly traded peers, according to Bloomberg Intelligence.
Based on its IPO price of HK$42, it will trade at 1.6 times book value, or "well in excess of currently listed lessors", said George Ferguson, an analyst with Bloomberg Intelligence, in a research note.