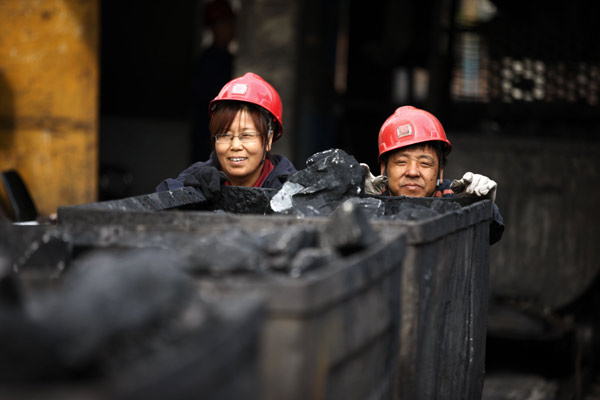 Workers at a coalmine in Huaibei, Anhui province. [Photo/China Daily]
Four major coal companies are to raise the price of their coal ready for shipment at ports by 10 yuan ($1.5) per ton during June.
Shenhua Group Corp, China Coal Energy Group Co Ltd, Datong Coal Mine Group and Inner Mongolia Yitai Group Co Ltd revealed the move on Friday.
According to a report by Citibank China analysts Jack Shang and Claire Jie Yuan, the decision is part of the government's ongoing effort to limit national coal production, which could eventually result in as much as 20 percent added to the price by the end of the year.
Coal being imported at the Qinhuangdao Port in Hebei province to be used for electricity generation is expected to rise from the current 376 yuan-as of May 25-to 450 yuan per metric ton, they said.
Market makers had been expecting price hikes for some time, with many suppliers stockpiling at ports waiting to ship at higher prices.
Stocks at five major ports in the north of the country, including Qinhuangdao, Caofeidian and Tianjin, stood at 14.97 million tons as of May 27, up 1.81 million tons from the same period in April.
The government has set a target of reducing domestic production capacity by 16 percent by the end of this year, and reducing the number of operational annual working days at mines from 330 to 276 days.
The State Council, China's Cabinet, said in February it hoped to cut coal production by 500 million tons in the next three to five years, or around 9 percent of total domestic capacity.
To achieve that, estimates are that 300 State-owned coal mines with production capacity of 300 million tons, and 4,000 small-scale mines with production capacity of 40 million tons, could be shut.
Already significant capacity has been cut in areas such as Shanxi province, China's largest coal-producing area, which has seen a 21.3 percent fall in the year to April.
According to the Shanxi statistics bureau, local coal mining companies with annual revenues of more than 20 million yuan churned out 58.2 million tons of raw coal last month.
"Limiting the operational working days is a precaution against a wave of bankruptcy across the industry.
"Together with other measures, this will be strictly carried out over the next few quarters," said Sheng.
Citibank estimated China's raw coal production capacity this year could decline by 9 percent, while actual demand will slow less dramatically, by about 3.4 percent.