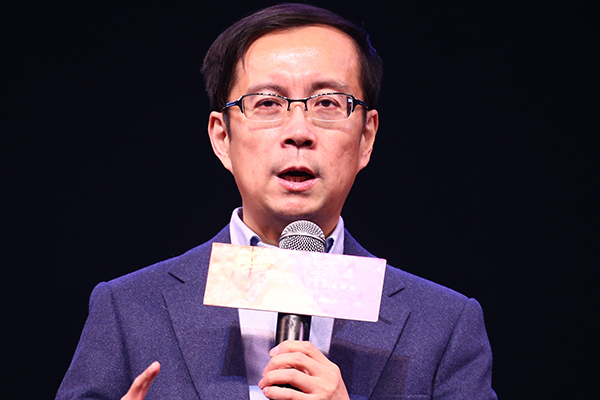 Daniel Zhang, who took over as CEO of Alibaba Group Holding Ltd last year, said in his first public speech that the company will have employees from all over the world from a wide range of backgrounds. [Photo provided to China Daily]
A recent media article lamented that not many Chinese corporate executives have risen to the top of overseas multinational corporations like, say, their India-born counterparts.
As an Indian, I'm aware that most of my compatriots and Indian media evince deep interest in, and even bask in the reflected glory of, Indra Nooyi who leads PepsiCo, Satya Nadella who heads Microsoft Corp and Sundar Pichai who pilots Google Inc.
Many other Indians hold high-level positions in foreign companies. For instance, India's Nikesh Arora is the president and COO of Japan's SoftBank Corp, an investor in China's Alibaba Group Holding Ltd.
Similarly, American, Brazilian, German and French executives lead, or have led in the past, companies of other countries. Why, Mark Carney, governor of the Bank of England, is an Irish-Canadian. You can't add too many Chinese names to that list.
Is China missing the essence of globalization? That set me thinking. Not about the reasons-they are, by now, well-known: Chinese executives are English-challenged, not familiar with Western culture, content with high pay and career growth opportunities at home-but about Chinese MNCs.
In the past two decades, many Chinese companies have gone global through a variety of routes: listing on overseas bourses, subsidiaries outside China, exports, M&As, and so on. Many more are itching to conquer the world.
But, not many Chinese companies (as distinguished from Chinese subsidiaries of overseas companies) have foreign executives at their top. I could recall only one exception-ex-Googler and Brazilian Hugo Barra, vice-president of Xiaomi Corp, a Chinese smartphone maker.
A senior Chinese colleague hazarded a guess about the reasons. Until recently, most big Chinese corporations were State-owned or State-controlled enterprises. Even many private sector companies were pioneered by former top executives of SOEs.
My guess is it's only in this millennium that China has truly become a global story from the perspective of talented professionals.
Change takes time, but things will change. Perhaps, by 2025, most Chinese companies will realize that in our globalized world, they can't simply not hire foreign talent.
Similarly, talented professionals the world over seeking opportunities to express themselves, will realize they can ill-afford to overlook Chinese companies as potential future employers, given their growing size, influence and ambition.
Things have already started moving in that direction. For instance, a few companies, and institutions like universities and think-tanks, already boast foreign talent.
Who knows, if Xiaomi's CEO Lei Jun abdicates like Bill Gates and Steve Ballmer of Microsoft had done in the past, and if Barra sticks on with Xiaomi for a few more years, he may well emerge as the Chinese tech major's first non-Chinese CEO.
Or, perhaps, Alibaba, the poster child of Corporate China, will win laurels in this respect too. Last fortnight, it launched the Alibaba Global Leadership Academy, a seemingly irresistible English-based full-time program to attract, hire and train talent from across the world.
The 16-month training, which will start in September at its corporate headquarters in Hangzhou, will offer competitive salary, accommodation, benefits and perks to 30 candidates to be selected from a global pool. The plan is to hire 100 talented people a year eventually.
Daniel Zhang, who took over as Alibaba CEO last year, said this in his first public speech: "We'll have employees from all over the world that look different from each other. We've to take the time to understand them, to understand their habits, cultural differences and way of thinking. This is how we become truly an international company."
Alibaba Vice-President Brian Wong, whose brainchild is AGLA, sees the new hires eventually becoming "a critical component of our globalization leadership team".
Alibaba's website says Wong wants more international staff in Hangzhou to help "internationalize" its headquarters, "whether by promoting the use of English or the sharing of new ideas and perspectives from those from abroad".
"We want people who come out of the program to be the businessmen and women of this new era, well versed in e-commerce with a particular sensitivity to what will soon be the world's largest economy, China."
Wong may have just stopped short of saying that Alibaba is pioneering a change in Corporate China's mindset and preparing to groom its first foreigner CEO.