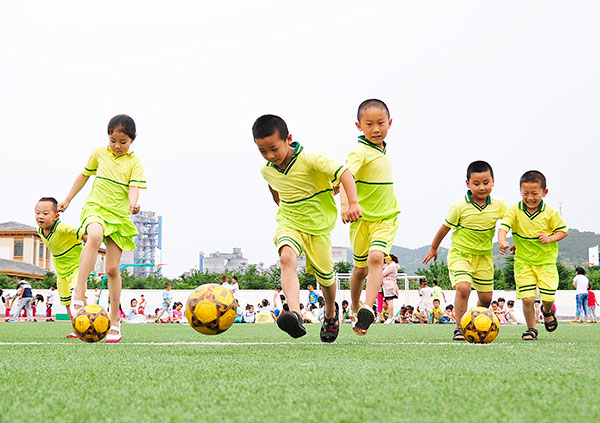 Children play soccer at a kindergarten in Yantai, Shandong province, on International Olympic Day. Soccer training is provided at the kindergarten to develop children's physical health and establish good living habits. [Sun Wentan/Asianewsphoto]
When a man has beer and soccer game to watch, it's like when Coke meets with Mentos mints, full of passion and energy.
By counting the number of beer cans scattered on the tea table in our living room in the mornings, I know roughly how late my husband has stayed up to watch the ongoing 2016 UEFA European Championship.
A newspaper page editor, he has been rotated onto the night shift this month. For a man back home from the office at around 1 am, a quick shower and sleep won't do. Catching a soccer game on TV with beer and snacks like spicy peanuts, on the other hand, is the best way he finds to relax during the midsummer nights.
Luckily for him, he can get a good sleep to recharge his batteries during the day and be ready for work at night. Not everyone, though, can do that. Most have to put in their 9 am-6 pm shifts.
An interesting study 10 years ago by the London Business School-still being widely quoted these days-found a link between mega sporting events and investor sentiment and stocks trading.
The bigger the games like the World Cup, European Cup, Summer Olympics and Winter Olympics, the worse the stock market performance, especially in the game's host countries.
"We find a significant market decline after soccer losses," the study led by Alex Edmans was quoted as saying.
"It sounds true," said my husband. "Investors and traders stay up late to watch the games, so how can you expect tired people to be focused and be active traders the next day?"
On June 13, the first trading Monday after the European Cup opened on June 10, the Shanghai Composite Index tumbled 3.21 percent, to close at 2833 points, the steepest drop in a month.
There's no research on this event exploring the precise link between investors, traders and sports fans, although people with common sense are likely to assume the two are highly co-related.
It may seem weird that China doesn't have a world-class national soccer team of its own, but is No 1 in terms of the sheer number of its fans.
Even my little boy's passion has been ignited. He needs to check the match scores every morning. Argentina, Spain and Belgium are his top three teams. "How can I join China's national team? I want to play in it and fight for it," said my 7-year-old.
Soccer is included in my son's extracurricular school sports activities once a week. When we were his age, we had basketball and volleyball practice. Soccer was never taught.
"This generation has a better time and our national team will have a brighter future," said my husband.
Soccer education is part of an official national strategy, which aims to deepen the soccer industry's reform and develop the country as a world soccer power. China aims to have some 20,000 primary and middle schools qualified to teach soccer by 2017 and around 50,000 by 2025.
The market size of China's soccer industry is projected to reach 2 trillion yuan ($303 billion) by 2025, according to the sport's long term development plan issued in April by the National Development and Reform Commission.
Along with Chinese billionaire investors' bold moves to buy prestigious international soccer clubs and sports agencies, and sending kids overseas to get professional training in top soccer camps, social and private investment is also being encouraged to get into the junior soccer education sector.
Xicheng Sanhao Co Ltd, a private education and training institute in Beijing, is such an agency which has its eye on the youth soccer education business.
After 10 months of negotiations, it has finally received two of its contracted coaches from the youth training camp affiliated with Real Club Deportivo Mallorca, a Spain soccer team based in Palma and a member of Primera division de Liga, known as Spanish Primera Division.
It'll cooperate with a bunch of schools in Beijing, outsourcing the newly-recruited Spanish coaches' expertise.
"I hope in five years we will form several qualified young player teams, capable of competing with European rivals in the future," said Wang Zhao, president of Xicheng Sanhao.
Being an entrepreneur in an educational business, with a soccer dream, Wang knows now is a golden time to ride the wave to boost the soccer education business.
Soccer is a game to watch for fun, to play for health and friendship, but also to invest in for returns.
Students play soccer after class in Beijing. China plans to have 20,000 primary and middle schools qualified to teach soccer by 2017.