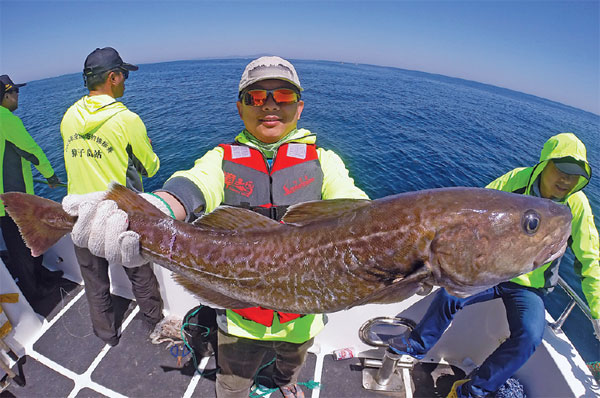 A visitor shows a big cod he caught from the sea near Zhangzi Island, in Dalian, Liaoning province. [Photo provided to China Daily]
Dalian Zoneco Group, one of China's largest seafood suppliers, is expecting its revenue to hike substantially this year, with both local and international sales expanding and operation costs dropping further.
"We have put a lot of effort into working out new market-based products and cementing our sales network," Wu Hougang, chairman of Zoneco, said on the sidelines of the annual meeting of the New Champions 2016, or Summer Davos, in Tianjin.
Wu is confident that the company can take off the "special treatment", or the ST mark, imposed on its stock ticker by the Shenzhen Stock Exchange. Because of its losses for two consecutive years, the exchange served it with a delisting warning in May.
According to information disclosed by Zoneco, its full-year loss in 2015 reached 243 million yuan ($36.5 million). In 2014, the loss was 1.16 billion yuan when an abnormal "cold water mass" caused significant damage to scallops growing in the northern Yellow Sea.
Zoneco must guarantee to make a profit this year, said Wu, saying it will continue to provide good products and service, control costs, and liquidate some assets to adjust the allocation of its resources.
Established in 1958, Zoneco is a leading seafood distributor, featuring raising of seedlings, aquaculture, processing, and trading precious seafood such as trepang (sea cucumber), abalone, and Yezo scallop.
Zhou Jiaxing, an analyst with Guoyuan Securities Co, is optimistic about the development of the food industry. "Despite the downside pressure of the overall economy, the food and beverage sector is expected to grow steadily," he said.
On May 23, Zoneco announced that it is planning to transfer 5 percent to 15 percent of its shares to Shanghai Hexiang Investment Management Co Ltd, which will be a strategic investor.