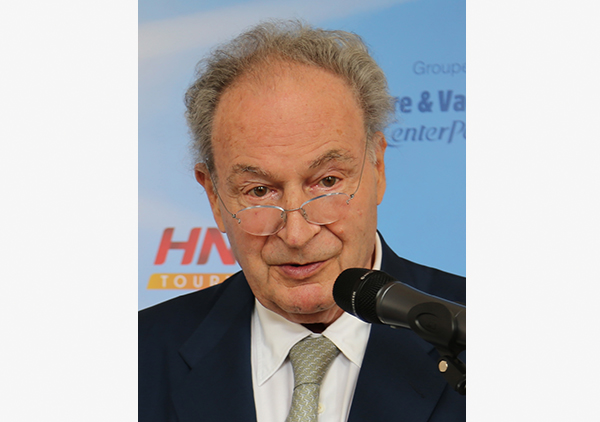 Gerard Bremond, chairman and CEO of Pierre& Vacances-Center Parcs Group. [Photo provided to China Daily]
France's largest vacation real estate company Pierre & Vacances-Center Parcs Group and Hainan Airlines Co Ltd will build three vacation sites with an area of more than 300 hectares in China, to bring the French leisure vacation lifestyle to the Chinese market, the two companies said in Paris and Beijing on Monday.
Following the partnership agreements concluded in November 2015 between HNA Tourism Group and PVCP, HNA purchased 10 percent of the listed French company's newly issued shares earlier this year, worth around 25 million euros ($27.88 million).
By Thursday, the price of PVCP's stocks in the French stock exchange was about 40 euros, meaning there was a gain of around 60 percent gain since HNA made its purchase.
This month, the two companies created the joint venture, HNA PV Tourism Co Ltd in Beijing, at which letters of intent concerning the acquisition of three plots of land and a memorandum of understanding were signed.
According to the agreement, over the next three years, the JV plans to develop five projects in a new type of tourism destination inspired by the Center Parcs concept in China. The first three will be located in Jixian, a county between Beijing and Tianjin, Suzhou's Xiangcheng district and Pinghu in Zhejiang province.
Gerard Bremond, chairman and CEO of PVCP, said he is confident that PVCP's model will be applied in China in synergy with real estate and tourism markets-and structure local industries and infrastructure under public-private partnerships.
PVCP will celebrate its 50th anniversary in 2017. It has around 300 sites in Europe. Center Parcs is the company's most famous leisure resort brand.
In the agreement, about 3,000 cottages or apartments will be built before 2020, and they are targeting Chinese middle and upper-class families for a tourism offer combining: proximity with major cities, short stays, a nature experience contrasting with city life and numerous sports and leisure activities for adults and children.
"PVCP's concept and its successful operation for 50 years in Europe attracted HNA to cooperate with the French company," said Chen Wenli, vice-chairman of HNA Group Co Ltd. "I am very confident about the project. In the Chinese market, we are lacking good tourist vacation resorts with the right concept and design."
Adeline Dohin, representative of the French Embassy to China, said: "I would also like to salute the tourism project, which fully matches the leisure tourism development policy supported by the Chinese authorities."