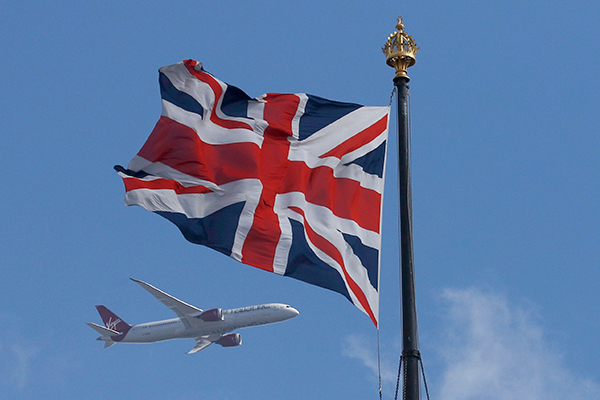 A Virgin Atlantic passenger jet flies past the Union Flag above the Houses of Parliament in Westminster, in central London, Britain, June 24, 2016. [Photo/Agencies]
Global currency fluctuations caused by the Brexit vote won't continue for long and won't affect long-term outbound investments by Chinese companies, the Ministry of Commerce said on Tuesday.
Shen Danyang, the ministry's spokesman, said China will closely follow Britain's development and its subsequent influence during the post-Brexit era, noting that China has a strategy of developing China-Europe and China-British business ties.
Outbound direct investment by both State-owned enterprises and private companies from China to the EU reached a record of $23 billion in 2015, while Chinese investment in the United Kingdom totaled $3.3 billion, data from the China Council for the Promotion of International Trade showed.
Shen said international financial markets will be affected by recent turmoil caused by the Brexit vote and other factors over the short term. The resulting uncertainly has affected Chinese companies' investment decisions.
"However, we think the direct impact is manageable," he said. "It is unlikely to last too long. The global investment environment will be more transparent and create more chances in different fields for new investment. Therefore, Chinese companies' outbound direct investment will remain positive and stable."
Eager to further optimize and upgrade the nation's industrial structure, the ministry has set goals to assist Chinese companies to invest a total of $720 billion overseas during the country's 13th Five-Year Plan (2016-20).
The ministry is also keen to boost the volume of services trade to exceed $1 trillion within the five-year period.
"Chinese companies will be able to buy firms or assets in the UK the same way they always have since it will take at least a half decade to see the final cut in the connection between the UK and EU," said Xing Houyuan, vice-president of the Chinese Academy of International Trade and Economic Cooperation, a think tank under the Ministry of Commerce.
Xing said the real situation in Western Europe will push China and the UK to make a trade treaty because, at the moment, it is being frustrated by the EU.