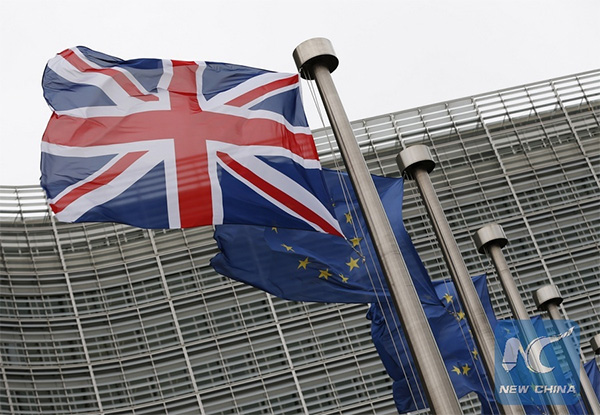 Photo taken on Jan 29, 2016 shows the UK and EU flags outside the European Commission headquarters in Brussels, Belgium.[Photo/Xinhua]
British Chancellor of the Exchequer George Osborne has set a goal of lowering the corporate tax rate to 15 percent in an effort to keep businesses investing in the UK as it prepares to leave the European Union.
Osborne, who campaigned to remain in the EU, said in an interview with the Financial Times that he accepted the result of the June 23 referendum and now wants to mitigate the economic impact. Britain currently has a 20 percent tax rate for business that's scheduled to fall to 19 percent in April and to 17 percent in 2020.
"We have now got to be part of a supreme national effort to make it work for the British people," Osborne said in the interview, which was published on Monday. Osborne said he stands by the warnings he's made about the possible impact of Brexit, "including a recession".
The planned tax cut illustrates the risks ahead for Britain after its historic decision to break with the EU after more than four decades, becoming the first major economy to strike out alone. The pound has lost 11 percent since the referendum, other EU nations are lining up to take business from the City of London, and the UK is riddled with political uncertainty amid a bitter contest to replace David Cameron and turmoil in the opposition Labor Party. Osborne's inclusion in the next cabinet is also far from certain.
"I see no realistic way back" from Brexit, and investors are underestimating the risk of a UK government being installed that tears up any residual relations with the EU, said Erik Nielsen, chief economist at UniCredit Bank AG. "This means that UK growth is indeed most likely to head toward recession in the coming quarters, and possibly severely so."
Osborne's proposal would bring the UK corporation tax down to a level closer to Ireland's 12.5 percent, angering Germany and others in the process.