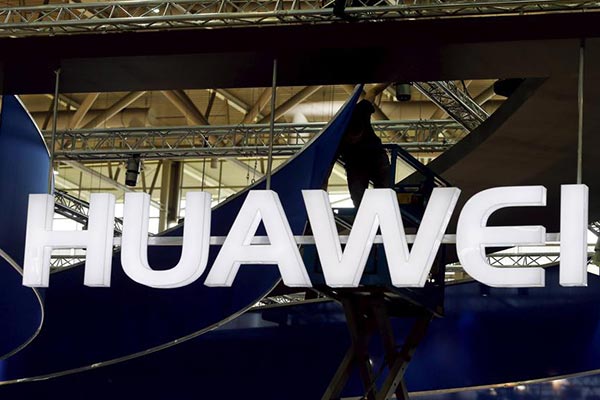 A worker adjusts the logo at the stand of Huawei at the CeBIT trade fair in Hanover, Mar 15, 2015.[Photo/Agencies]
Chinese technology company Huawei told the British government on Tuesday that its planned investment in the country would go ahead despite its voting to leave the European Union, business minister Sajid Javid said.
"Investors have reaffirmed their commitment to the UK. For example just today Huawei confirmed to the government that its planned 1.3 billion pound ($1.73 billion) investment in the UK will go ahead as planned," he told a news conference.
Securing access to the European Union's single market is the top goal in Brexit negotiations, Javid said on Tuesday, as a business group warned the government was a long way from having a clear plan for its future ties with the bloc.
The minister hosted a meeting of business organizations and representatives from Britain's largest trade sectors to seek to reassure them after last week's shock referendum vote to leave the EU sparked a meltdown in financial markets.
"The biggest issue raised was the need to secure continued access to the single market. While I am not in any position to make promises, I assured everyone that my number one priority will be just that in the negotiations to come," he said after the meeting.
Javid, who had campaigned for Britain to remain in the bloc, is seen as a candidate to become the next finance minister in a new government after Prime Minister David Cameron announced he would step down by October.
Business groups have urged the government to explain how the world's fifth largest economy will extricate itself from a bloc it joined in 1973. Economists have already warned Britain could tip into recession, hitting the stock prices of sectors such as housebuilders, holiday groups and airlines.
The government invited representatives from some of Britain's largest sectors, including aerospace, defense, automotive, oil and gas, steel, rail, tourism and food and drink to the meeting, which it said would be the first in a series.
Cameron is also due to meet business leaders later in the week to discuss the impact of the referendum result.