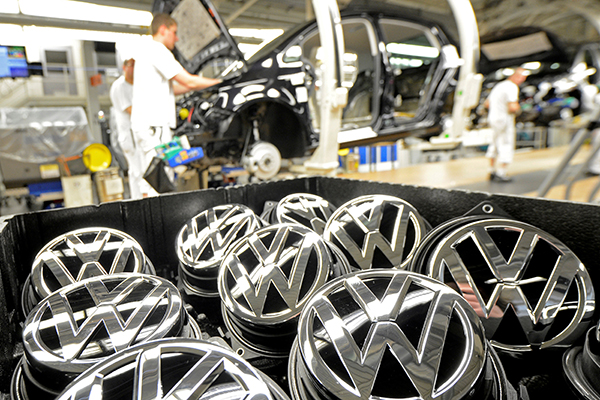 A production line at the plant of German carmaker Volkswagen in Wolfsburg in 2013. [Photo/Agencies]
Volkswagen AG's price tag to settle lawsuits in the US over its rigging of diesel emissions tests has jumped to more than $15 billion - $5 billion more than previously reported - on the eve of a settlement to be filed on Tuesday in a San Francisco court.
Under the deal, VW will set aside up to $10.03 billion to cover costs including buying back vehicles at pre-scandal values and compensating drivers as much as $10,000 per car for their troubles, two people familiar with the negotiations said. Those figures could rise if VW misses certain deadlines.
In addition, Volkswagen will pay $2.7 billion in fines that will go to the US Environmental Protection Agency and the California Air Resources Board, and invest $2 billion in clean-emissions technology, one of the people said. The carmaker is also expected to announce a settlement with states, including New York, for about $400 million, another person said.
That total far exceeds any previous US civil settlement with an automaker, and it brings VW closer to the 16.2 billion euros ($17.85 billion) it has set aside to cover the costs of the scandal. But it won't put an end to VW's legal troubles spanning three continents as the company still faces civil and criminal actions in other jurisdictions. The total economic impact of the scandal on VW was estimated at $55 billion euros by Richard Hilgert, an analyst at Morningstar Equity Research.
That includes government fines, dealer remuneration, repair costs, vehicle repurchases, plus the litigation costs and damages awarded plaintiffs from class action lawsuits filed by shareholders and consumers, he said.