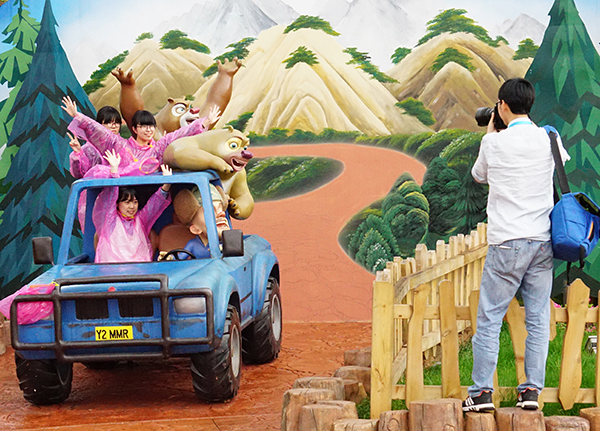 Children play and pose for a photo shoot in a Fantawild theme park in Ningbo, Zhejiang province. [Photo/CFP]
Leading brands rush to roll out new sites, with demand set to soar over next decade
Fantawild Holdings Inc, one of China's leading theme park brands, plans to ride the boom in the sector and double the number of its parks over the next five to ten years.
"The total number of our theme parks will reach 40 in China in the next five to ten years," said Ding Liang, senior vice-president of Fantawild.
So far, the company has built about 20 theme parks across China, which attracted about seven million visitors in the first five months this year.
Fantawild, acquired in 2001 by electronics major Shenzhen Huaqiang Holdings Ltd, has a complete industrial chain from park design, construction, and market operations. It is also one of the leading producers of animation programs in China.
The Asia-Pacific region's share of total international theme park attendance reached 42 percent last year, up from 35 percent 10 years ago, according to Global Attractions Attendance Report, published by Themed Entertainment Association (TEA) in May.
It forecast the Asian market to overtake the mature North American market-which had a 47 percent share of attendance last year-by 2020 or sooner depending on results from the newly opened $5.5 billion Shanghai Disney Resort as well as Universal Beijing's performance.
Shanghai Disneyland opened on June 16 and Universal Studios is also planning to open a theme park in Beijing with an investment of hundreds of billions of yuan.
The report also showed attendances at the top theme parks in the Asia-Pacific region for 2015 was driven almost entirely by the Chinese mainland.
The Chinese Tourism Academy data have shown the theme park industry in China last year generated total revenue of 230 billion yuan ($34.6 billion). China's leading online tourism agency, Ctrip.com, has estimated that Shanghai Disney alone will attract 16 million visitors annually.
Domestic theme park companies are fighting for market share with diverse approaches.
Fantawild's Ding said Disneyland came late and one park is far from enough-"China has such a large population base that one Disneyland can't digest it all," he said.
Disney ducks reports of Chongqing park
The Walt Disney Co has refused to confirm reports of a third China Disney theme park to be built in Chongqing Municipality in southwestern China and said its current focus remains on its new resort in Shanghai.
According to Chongqing Foreign Trade& Economic Relations Commission, the US group was in discussions about a new theme park project in the central or western part of China long before the opening of its $5.5 billion Shanghai Disney Resort on June 16.
"Chongqing has given a high priority to Disney's project in western China and is actively preparing plans to bid for this project at this location," the commission said.
A Walt Disney spokesman told China Daily, however, the company was now focusing on the success of its new Shanghai Park, the firm's second park in China after the first one opened in Hong Kong in 2005.
"Our company's focus is on the successful operations and future expansion of Shanghai Disney Resort," he said.