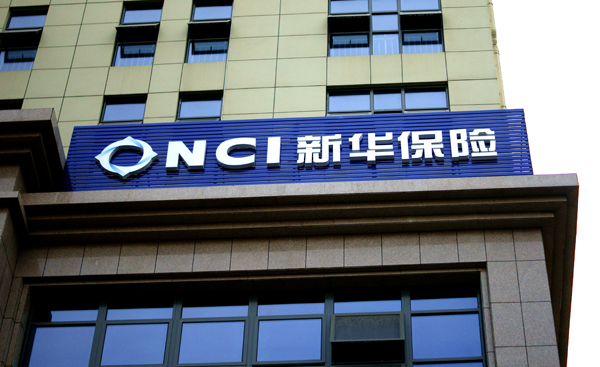 A logo of New China Life Insurance Co Ltd (NCL), in Yichang, Central China's Hubei province, Oct 18, 2015. [Photo/VCG]
New China Life Insurance Co Ltd (NCL), the country's third-largest life insurer, is reshuffling its business portfolio to focus on protection-oriented products and boost the proportion of regular premiums, the company's top management said on Tuesday.
"I am not worried about the fall of the premium income in the first five months of this year as it is the result of the business structure reshuffle and within our expectation," said Wan Feng, president of the Hong Kong-listed NCL.
The company's premium income dipped 2 percent in the first five months of 2016, while the overall insurance industry is booming.
The fall, according to Wan, is the result of NCL slashing its single premiums products, while boosting its regular premiums products.
"Our premium income target this year will be 110 billion yuan ($16.9 billion), the same with last year," Wan said. "But our premium income will see a big growth in 2018 when the restructuring is completed."
Meanwhile, NCL will focus on protection-oriented, rather than investment-oriented, products.
"Since the end of last year, all of our newly developed and launched products are protection-oriented. Given the low-interest environment, having more investment-oriented products will bring a big challenge for insurers," Wan said.