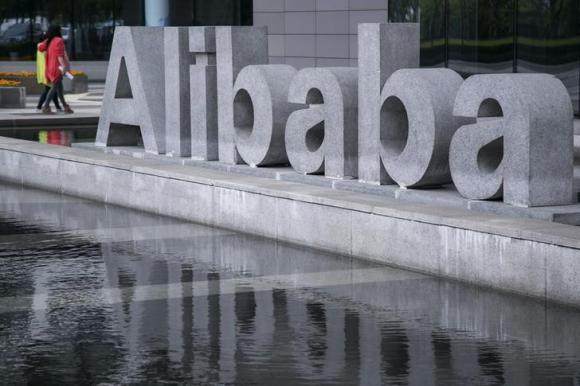 People walk at the headquarters of Alibaba in Hangzhou, Zhejiang province, April 23, 2014. [Photo/Agencies]
Move aimed at gaining a firmer foothold in the domestic application distribution market
Chinese e-commerce conglomerate Alibaba Group Holding Ltd said on Tuesday that it will take over Beijing-based Wandoujia, a major Android app store, with the aim of gaining a firmer foothold in the domestic app distribution market.
Wandoujia, officially launched by Beijing Zhuoyi Xunchang Technology Co in 2010, will be incorporated into Alibaba's mobile business unit, the e-commerce giant said in a statement without revealing the detailed financials behind the takeover.
The deal, which reportedly cost $200 million, will equip New York-listed Alibaba with a well-established Android app store, something it has been wanting for some time.
Yu Yongfu, head of Alibaba's mobile business unit, which oversees Alibaba's mobile browser and mobile map business, said that with Wandoujia joining the group more synergies could be achieved in "big data and content".
Wang Junyu, founder of Wandoujia, said that through the online behemoth the app store would be able to provide apps based on individuals' tastes via Alibaba's huge database.
The takeover is expected to help Alibaba catch up with its rivals in the app distribution market, said Zhu Daling, analyst with the Beijing-based internet consultancy Analysys International.
Statistics from the firm showed that Baidu Inc, the dominant player in app distribution, accounted for 27.5 percent of the market share, followed by Tencent Holdings Ltd's 19.4 percent in the first quarter of this year.
Wandoujia ranked fifth, accounting for 5.7 percent of app distribution market in the first three months of this year.
"It is still too early to say whether this deal can reshape the landscape of China's app distribution market. But it seems Alibaba has made a good deal if it acquires the company at $200 million," he said.
Analysts said that Wandoujia has missed the optimal time for a buyout. In 2013, Baidu spent a record $1.9 billion to take over app store 91 Wireless, as the Chinese online search engine tried to navigate a shift from desktop computing to mobile internet.
Wandoujia was valued as high as $1 billion when it secured a round of financing in early 2014, led by SoftBank Corp. Later in 2014, Alibaba reportedly offered $1.5 billion to buy the app store, but was unsuccessful.