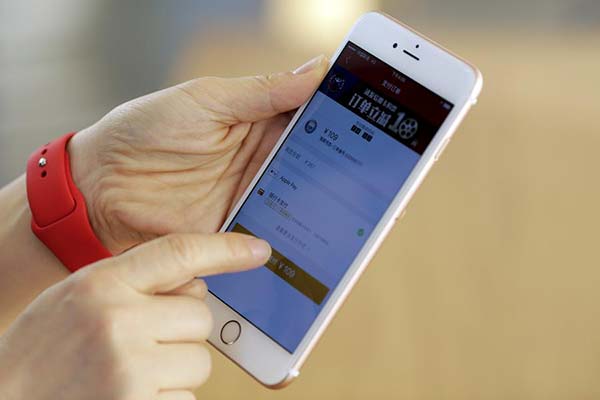 An employee uses an Apple iPhone to demonstrate to reporters how to pay using the Apple Pay service at an Apple store in Beijing, Feb 17, 2016. [Photo/Agencies]
The performance of Apple's iPhone in China has worsened to 11 percent market share in May 2016 with its ranking dropping from third to fifth in the first quarter, according to a report from TechWeb.com.cn, citing a latest research from analyst firm Counterpoint Technology Market Research.
TechWeb said that Apple Inc's revenue in Greater China region fell 26 percent last quarter (as of March 26), in which the company suffered its first-ever quarterly corporate revenue decline since 2003.
The second quarter witnessed Apple's revenue decline 13 percent year-on-year and plunge to $50.6 billion. Its net profit decreased by 23 percent year-on-year to $10.5 billion.
Hong Shibin of Internet Society of China is an Internet marketing expert. Hong says Apple's biggest weakness is its product.
"Compared with the classic iPhone 4S and 5S, the iPhone 6S and iPhone SE lack innovation highlights," said Hong.
By comparison, Huawei Technologies Co Ltd's market share continues to grow, ranking first in China's smartphone market.
In addition, Chinese domestic smartphone manufacturers Huawei, Xiaomi Corp, Guangdong OPPO Mobile Telecommunications Co Ltd and Vivo Electronics Corp together captured 53 percent share of the overall Chinese smartphone market.