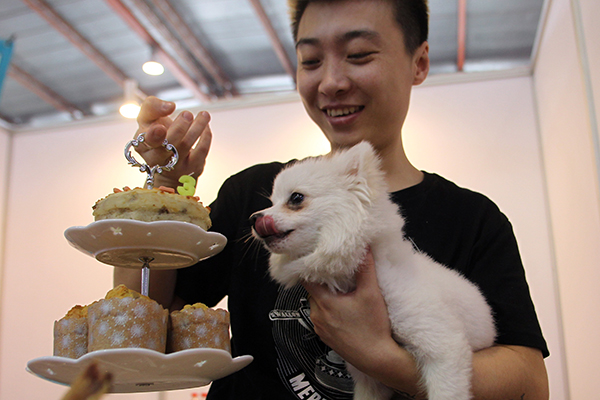 A dog looks at a birthday cake at an expo in Beijing. [Photo/China Daily]
Nine years ago, in a small loft on the top of a student dormitory at Chongqing University, three young men started their dream of building the country's best pet products e-commerce platform, with only 800 yuan ($120) seed money.
By the end of 2015, their epet.com has become China's largest of its kind with 200 million yuan sales revenue.
Yu Zhen, 33, chief human resources officer and one of the co-founders, was then working at Chongqing University as an urban planner. A random shopping trip downtown inspired his passion to do something about pets.
"I found many people taking their pets onto the street and thought it must be a good business," he told China Daily.
As a side job, he immediately set up a local pet BBS. His friend Xiao Yu, now CEO and then a graduate student at Chongqing University's Business School, made a business plan for Yu's project as his homework.
He found that the pet product e-commerce in China had a huge market and was still at its very early stage.
Xiao found that two-thirds of US families have pets, while in big cities in China such as Beijing and Shanghai, the number is only 15 percent.
The pet industry in China has been growing rapidly at 30 percent every year. The market scale reached 50 billion yuan in 2015 from 30 billion in 2013.
To focus on the "once-in-a-lifetime" opportunity, Yu recalled, he quit his job and Xiao quit his studies.
During the first two years operating the local pet BBS, the team tried various business models but all failed. In 2009, they decided to build Chongqing's first pet product e-commerce website, epet.com.
"We had a very clear goal in the beginning that we were going to establish our own platform, not an ordinary online shop at Taobao (an e-commerce site of Alibaba Group Holding Ltd) or WeChat (a messaging and social media platform of Tencent Holdings Ltd)," Yu said.
Next year, epet.com will launch pet O2O services, including bath and beauty products, foster care, medical care, training and photographs. It plans to go public in 2019.
Deng Rui contributed to this story.