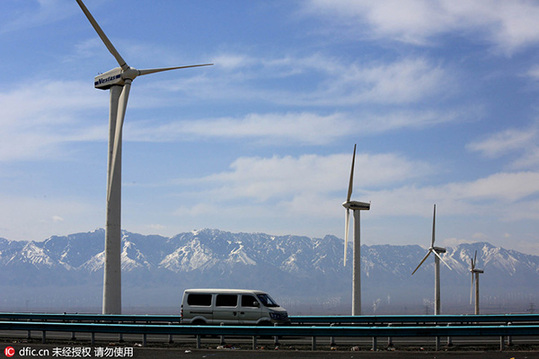 Wind turbines whirl to generate electricity at a wind farm in Urumqi city, Northwest China's Xinjiang Uygur autonomous region, April 18, 2015. [Photo/IC]
BEIJING - A new report suggested China should pilot renewable energy integration policies similar to those adopted in Germany and Texas in the Beijing-Tianjin-Hebei region to transmit excess energy and reduce wasted wind power.
Renewable energy integration will be fundamental to China's transition to a low-carbon economy. Although China now leads the world in terms of installed capacity of wind and solar power, curtailment -- or energy waste -- remains a severe challenge preventing its full use, according to a report released by the Paulson Institute, a think tank devoted to sustainable growth.
The report pointed out that the wind and solar energy output of Hebei province's Zhangjiakou outweighs the small city's demand, leading to high rates of curtailment. The city, located near Beijing, is China's first nationally designated renewable energy demonstration zone.
The Paulson Institute suggested China could learn from Germany and Texas by establishing Beijing-Tianjin-Hebei as a pilot for regional renewable energy integration, explicitly linking renewable energy produced in Zhangjiakou with centers of high electricity demand such as Beijing and Tianjin.
Germany and Texas achieved very low rates of curtailment last year, 1 percent and 0.5 percent respectively, thanks to their steps to reform transmission planning, power dispatch and spot markets, the report showed.
China can improve coordination of transmission and distribution design of renewable power additions within the region and adopt more rational pricing and dispatch structures, the report suggested.
Ensuring that clean energy from Zhangjiakou can reach all of the Beijing-Tianjin-Hebei region will be key to the zone's economic integration, and the policies can be replicated nationally and even globally if they are successful, according to Anders Hove, Associate Director for China Research at the Paulson Institute and author of the report.