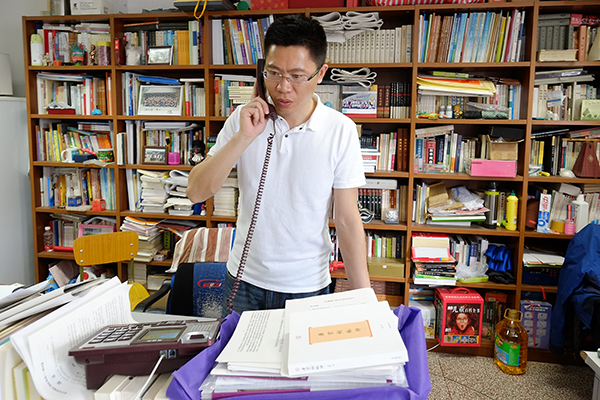 A middle school teacher contacts parents of his students in Beijing. The number of fixed-line phone users is decreasing fast due to the popularity of smartphones. [Photo/China Daily]
An increasing number of Chinese enterprises have become aware that good post-sales service is the key for sustainable business growth. But, this is not a task that some service firms do well.
Take, for example, my landline telephone operator.
On the evening of June 7, the phone was suddenly offline with no signal. I dialed the service hotline of the company right away and was told by the hotline attendant that a technician from her company would contact me within eight hours. I was happily telling my wife, "Look! Eight hours is not a long time for such a big company to handle a customer's problem".
However, I was wrong-we didn't receive any call from the telephone operator for 24 hours after my call for help. So, I kept calling the hotline every day, asking when my telephone problem could be handled. They always gave me the same answer-that the relevant technician would contact me very soon. After three weeks, my home telephone eventually returned to normal without any technicians coming to my home.
I've paid more than 150 yuan ($23) on average monthly to the telephone operator for more than 10 years for use of the fixed-line telephone. But when I got a problem with my phone, I felt I was being ignored.
The telephone company, which asked to be anonymous, is one of the big three telecom operators, which have no competitors in China's telecoms market because they enjoy strong policy and financial support from the central and local governments. The other two are mainly engaged in mobile and internet communications.
My boss said that he also had a similar experience in his community. He tried to apply for a telecom company's internet broadband service, but was told by his property company that the only provider he could choose was from another firm designated by the property company. Obviously, the community's telecom service was being monopolized. So, my boss asked, how could the telecom service be as good as he hoped and expected?
My telephone operating company's official website commits to a round-the-clock customer service hotline, providing services such as inquiry, consulting, failure reporting, handling of complaints and suggestions, business transactions and recharge service. Proactively, the hotline also calls customers for feedback and sends greetings.
The company might have a special reason for not keeping its customer service commitment to me. But, shouldn't I at least receive a call from the hotline to explain what was going on over there? I think I should. I believe my experience is not unique among the country's 231 million fixed-line telephone subscribers.
Even in such a monopolized market, post-sales service has, to some extent, affected the business revenue of the fixed-line telephone operator. In 2015, the company's annual revenue fell to 277.05 billion yuan, down 4 percent year-on-year.
Another reason for the company's business revenue shrinking was the decrease in fixed-line telephone subscribers nationwide due to the strong challenge from mobile services. According to data from the Ministry of Industry and Information Technology, more than 18.43 million users scrapped their contracts with fixed-line telephone operators in China in 2015.
I really hope the current decrease in fixed-line users does not become an excuse for my telephone operator not to provide a quality post-sales service to its customers. Bad service is a double-edged sword that hurts both customers and the company's reputation.