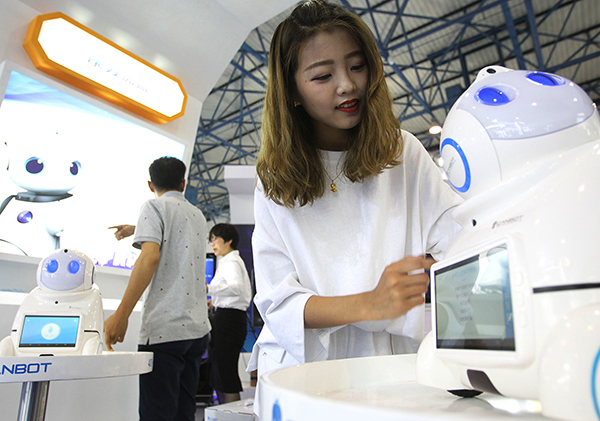 Robots for domestic use on display at a new technology expo in Beijing. [Zhang Wei/China Daily]
Buzzwords and catch phrases related to innovation have exploded of late: robotics, big data, cloud computing, internet of things, NEVs, intelligent wearables, augmented reality, live streaming, 3-D printer... I'm convinced man can now do anything and go where no mind has gone before.
Lest innovation should degenerate into mindless investments, senseless startups and wasteful goods, I've put together "Disruptive Dozen" tech ideas that, if exploited well, could fulfil various digital-age needs and spawn potential billion-yuan businesses, besides keeping the wheels of economy turning.
Call them a consumer's wish-list or a frustrated individual's flippant tribute to innovation, if you will. Innovators, please feel free to make the most of this free intellectual property.
1) Live aircraft monitoring: Mystery continues to shroud recent plane disasters. Passengers, crew and aircraft disappear just like that. Families are left traumatized. Black box, cockpit voice recorder, radar, blah... we need not only better technologies that can precisely track all the planes all the time and everywhere - on ground, in flight, under water - but also live streaming from in-cabin cameras.
2) Solar superphone: I'm tired of recharging my Xiaomi and the power-bank day in and day out. Need an affordable phone with solar or cosmic cells that can convert sunlight, moonlight, starlight, even artificial light, including candlelight, into energy and work all the time without I ever having to recharge it. And, how about mobile-cam lenses that can adjust focus, zoom and shoot in both image and video modes simultaneously?
3) Customized escalators: Several high-density public locations are in desperate need of escalators. Existing staircases are not demolished because that would cause too much disruption. We need pre-fabricated, easy-to-install custom escalators.
4) Luggage-friendly carousels: Luggage, no matter which airport or airline, will likely sustain scratches and damage due to rough handling and serpentine carousels. Travel insurers don't offer compensation. Our luggage deserves better treatment.
5) Sounds and silence: Hum-free office air-conditioning - to hell with that constant background drone. Enough! Noise-free drillers - when silencers can be fitted to heavy machine guns, surely innovators can invent silent or low-noise drills too? Intelligent vehicle alarms - time to make automated loud vehicle alarms intelligent so they go off only when there's a confirmed break-in, not at midnight when a pet cat lands on car top or a gentle breeze caresses the glass window or a bolt of thunder hits the neighboring district. Real-time audio translation - two paired smartphones still can't double up as instant A-Z audio translators in real time. This has to change. Also we need smart Bluetooth and SD-card speakers - with one or two plug-in headphone sockets and a digital screen to browse, search and select content in a jiffy, to make long journeys tolerable.
6) Lamp-cum-fan-cum-insect repellant: Weekend summer evenings on park benches need not become a battle with a million mosquitoes and other assorted insect armies. A portable, battery-operated three-in-one device will be a mighty help indeed.
7) Website/app translator: Needed: software that can instantly and precisely translate existing website or app content into the language of one's choice, and even enable transactions and payments.
8) Accurate media metrics: We know how many times a viral video has been viewed on the web, but we don't know exactly how many readers have read a certain newspaper article or how many viewers watched a particular TV program.
9) Reusable packaging material: Buy something online, and it's delivered in super-strong, high-tech packaging material that can be reused at least 10 more times. Only, it's just discarded. Shame! Let's innovate. Delivery people should take back the material for reuse, eliminating needless recycling. Products would become cheaper, wasteful production would be minimized.
10) Auto feedback to webmaster, IT head and CEO: When websites and online forms malfunction - they do all the time - and give you an error message, the same message should also reach not just the webmaster but the organization's IT head and CEO.
11) Versatile selfie stick: Out with selfie rods. Let's have sticks that you can bend, twist, rotate, swivel, retract, extend at will.
12) Ultra-modern subtitling: As a digital-age consumer of cable TV, you should have the power to configure any content to subtitles and audio in the language of your choice.