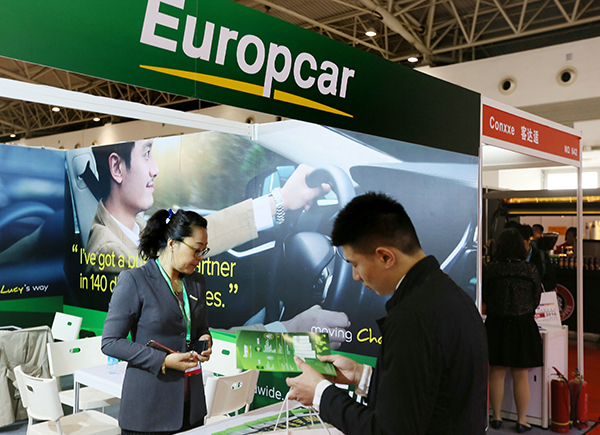 A man looks at brochures about auto touring at a recent outbound tourism fair in Beijing. The fair attracted more than 400 companies engaged in various travel services from 70 countries. [Photo provided to China Daily]
With more than a decade of driving experience, I was fairly confident and thought it should be easy and enjoyable when my son suggested we drive during our two-week vacation in France and Spain. It was easy, apart from the less than 300 kilometers from the Pyrenees Mountains to the Spanish seaside city Barcelona.
The roads are pretty good, compared with my driving experiences in China including the zigzagging, cliff-side roads in the Yanshan Mountains north of Beijing that lead to the grasslands in Fengning in Hebei province.
What really made me nervous was that, from the rear mirrors, I could see cars were following me so closely, and this gave me huge pressure.
To play it safe, I deliberately drove below the speed limit while on the downhill roads. Now and then, I pulled over if there was a parking ramp to give way to the cars behind me. I did not want to block the lane of others, and more importantly, it was a way to ease the pressure I was under.
When we arrived in Barcelona, I wondered how other Chinese drivers fare on the same route.
As more and more Chinese nationals travel abroad, vacation driving has gained in popularity.
According to a survey by online travel service platform Mafengwo in 2014, about 30 percent of outbound travelers chose to drive themselves or had plans to do so in the future.
Car-rental spending by outbound travelers through online booking amounted to 13.13 billion yuan ($2 billion) in 2015. Given that Chinese nationals made more than 120 million overseas trips last year, car rentals could be a big market.
However, we need to know more about traffic, roads, laws, driving habits, and even the car itself before we take these exotic road trips.
While in a strange driving environment, a few minutes of briefing or a brochure, about the vehicles, local traffic rules and road conditions, would be of tremendous help to the drivers. In my case, I would not have had to seek assistance when picking up the car at Bordeaux airport if I had such a briefing. After inserting the key and pressing the start button, the car did not respond, and this made me, as an experienced driver, feel quite embarrassed.
The car I rented was similar with the French brand model I drive back home in China. That's partly the reason I booked it, but there was slight difference in how to start the engine. It actually turned out to be simple: Foot on the brake pedal and press the start button.
In my case, details really mattered.
Besides providing advice and education, if necessary, when a Chinese traveler books a car, rental companies may also find it helpful to understand know more about the wants, needs and idosyncracies of a Chinese driver.
According to a report by Huizuche, a Chinese car-rental service platform, Chinese travelers have a special preference for SUVs and large vehicles, and show less interest in compact cars, because they want space to store big suitcases, and sufficient supplies of food and drink.
The top five car models are Grand Cherokee, RAV4, Focus, Versa and Corolla, according to the report.
Chinese travelers, particularly affluent younger people, are now likely to travel further afield and spend more. This is a trend that service providers cannot afford to ignore.
In addition to the traditional favorite destinations such as the United States and Canada, Japan, South Korea and Southeast Asian nations, European countries including France, Spain, the United Kingdom and Italy are gaining favor among Chinese travelers for driving vacations.
In fact, the two countries I traveled to-France and Spain-were among the top 10 destinations in the Huizuche report.