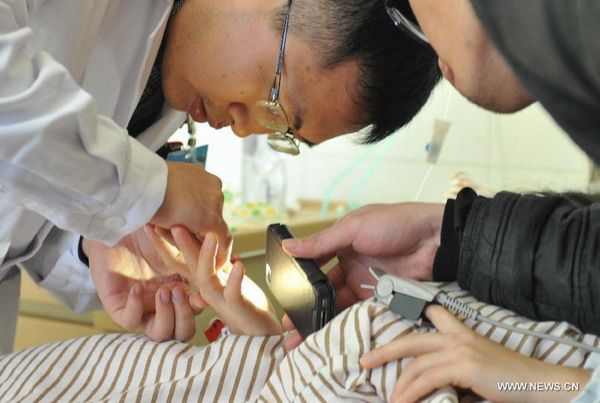 A doctor removes glass from a patient's hand in Xiamen,southeast China's Fujian Province, Jan 15, 2015.[Photo/Xinhua]
Last year, in a desperate move, Gu (not his real name) and his wife sent their 5-year-old daughter to Germany after she was diagnosed with rhabdomyosarcoma, a highly aggressive and malignant form of cancer.
"We don't have other choices," said the businessman from northeast China who is in his 30s. His daughter needed proton therapy that is too sophisticated to be available for children in China.
While the outcome of the treatment in Germany remains uncertain, Gu said it has already cost his family "close to 1 million yuan".
Gu's daughter is not alone. Many Chinese patients, old and young, have chosen a hospital outside China as their second option or the last resort.
However, some medical professionals believe such patients and their families might be too optimistic.
"Patients who choose to go abroad will certainly have more access to advanced medical technologies and new medicines that are unavailable in China," said Tai Jun, who is in charge of international cooperation at Beijing Children's Hospital, one of the finest of its kind in China. "Foreign hospitals have sufficient funds and time, which they spend on medical research and development. But, in terms of medical practices, Chinese doctors are doubtlessly more experienced."
Hu Xingsheng, an internal medicine specialist at the Cancer Institute and Hospital, under the Chinese Academy of Medical Sciences, said, "For a tumor patient, there is only one scenario where medical tourism is meaningful patients specifically target certain kinds of medicines or therapies that are inaccessible in China. Otherwise, it's not necessary for patients to spend millions on overseas medical care." Medical environment and the quality of service in foreign hospitals might be better, but the transfers from Chinese medical facilities to foreign ones could be a major problem for many.
To address this logistical problem, consulting companies have come into being. They claim to offer professional services ranging from translation to overseas accommodation arrangements. Tai said, patients could find the right hospitals abroad by consulting with such companies. However, they need to be careful because only a handful of consulting companies are qualified. "Overseas medical care initiated by reliable Chinese hospitals, like remote medical consultation, is always the best option," he said.
Ni Yuchen contributed to this story.