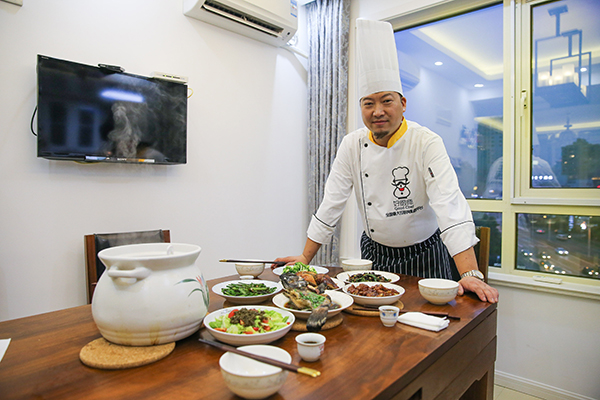 The professional chef poses with his work. [Photo/Xinhua]
"Our platform has handled several million orders thus far, but the insurance claim ratio is far lower than the average rate in the catering industry," said Tan, who declined to disclose the specific figure.
Li Pengfei, a 26-year-old computer programmer in Beijing, said he uses Home-Cook five times a week.
"I am from Hunan, a province known for its spicy food. But it is often difficult to find authentic Hunan cuisine in this city. Through Home-Cook, I found a couple who excel in cooking Hunan food. Their dishes taste like my mom's. The price is also cheaper than the food ordered at restaurants."
Liu Xuwei, an analyst at Beijing-based Internet consultancy Analysys International, said Home-Cook is trying to differentiate its services from the takeout and delivery apps such as Ele.me and Meituan-Dianping.