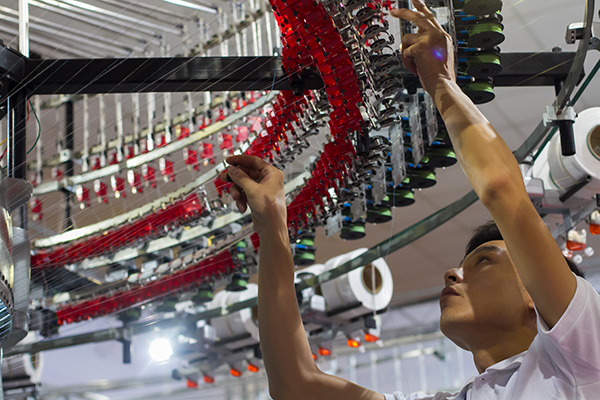 A Chinese technician displays textile equipment at an international exhibition in Ho Chi Minh City, Vietnam, which attracted 125 companies from Vietnam, China, Japan and South Korea. [Photo/Xihua]
Last week, Tianneng Group of Zhejiang province in East China, which makes lead-acid batteries for electric vehicles, said it will set up a new plant in Southeast Asia, closer to its clients, amid surging production costs in China.
Tianneng's decision wouldn't surprise China's auto industry and ancillary players, many of whom are based south of the Yangtze River. Hurt by rising costs like wages, they are eager to either set up new plants in ASEAN countries, mainly Vietnam, or relocate altogether, by coasting on the ASEAN-China Free Trade Agreement.
According to one expert, the trend should not alarm China. It is, nevertheless, strong enough to warrant PowerPoint-backed talks over executive breakfasts at five-star hotels in Beijing.
I recently attended one such talk organized by the German, British, French and Swedish chambers of commerce. The audience included executives from small and medium-sized foreign firms, a contrast to mega corporations that rely on in-house experts like economists to make sense of the Western media's gloom-and-doom discourse on China's economic slowdown.
The ACFTA, as part of a larger "mess" of ever increasing, overlapping FTAs, is a hot topic.
The audience wanted to know: Is it time to relocate from China to ASEAN countries?
A female official of the Liuzhou New and High-Tech Industrial Development Zone in the Guangxi Zhuang autonomous region, bemoaned that in spite of preferential policies, auto supplier companies are leaving in droves for Vietnam. Why? Can something be done to stop the exodus?
The speaker, Fabian Knopf, head of the German Desk at Dezan Shira & Associates, a global business consulting and financial advisory firm, didn't proffer facile answers. But he is convinced the China-ASEAN dynamic may not be a bad thing for Chinese businesses.
Regional division of labor, he said, could help all as each market will get to specialize in one business function-R&D, components or logistics. Other positives include an opportunity for China to pressure Chinese and foreign companies alike to shift light manufacturing away and make way for high-end manufacturing.
This shift has already happened in textiles, he said. "Perhaps countries like Vietnam and Cambodia might be interested in taking some of the old manufacturing from China. And companies in China, hurt by rising labor costs, could also use it as an opportunity to invest in staff development and improve productivity to reduce costs."
The rise of ASEAN as a cheaper manufacturing and services alternative should not cause concern to China, he assured. ASEAN countries may have lower costs and consumer markets larger than Europe and parts of the United States, but their infrastructure is not comparable to China's, not only in terms of "bridges, roads and railways" but "supplier networks, consumer networks, logistics", individuals' skills and industry's skills.