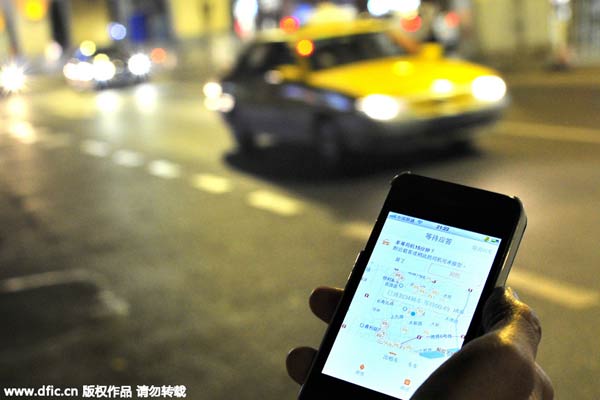 A man uses taxi-hailing app Didi Dache on his smartphone on a road in Guangzhou city, South China's Guangdong province, April 9, 2015. [Photo/IC]
BEIJING -- China's top car-hailing company Didi Kuaidi will expand its online car sales business into a day-to-day automobile e-commerce operation through its app in the near future, the company announced Wednesday.
The announcement came less than a month after its success in selling cars online in December during an e-commerce marketing campaign. The campaign saw 200 new cars sold in only two hours on Didi Kuaidi's platform.
Didi Kuaidi started working with carmakers and dealers to sell cars online in December after utilizing its robust user base to tap into China's test drive market through the app.
The test drive service, which was launched in October, allows users to book test drives with 92 car models from 19 brands, such as Toyota, Mercedes-Benz, Lincoln and Audi, with vehicle prices ranging from 100,000 yuan (about $15,400) to 1 million yuan.
Global auto brands are now using Didi Kuaidi's test drive platform to offer a full range of auto-related services, including pricing and demand projections, targeted product recommendations and other auto e-commerce initiatives.
After a little more than 3 months of operation, the test drive service has expanded from Beijing to five other cities, including Shanghai, Guangzhou, Shenzhen, Chengdu and Hangzhou.
Having attracted more than 1.8 million users with over 1.4 million orders, the company plans to expand the test drive service into 20 other tier-one and tier-two cities across the country in the coming year.
Didi Kuaidi, which is backed by Chinese Internet giants Tencent and Alibaba, said it plans to build its fast-growing test drive business into an open, big data-driven automobile service platform.
With nearly 300 million registered users and over 14 million drivers, Didi Kuaidi could enable carmakers and dealers to build more effective and beneficial connections with users, buyers and media with its big data integration and analysis capabilities.
Zhu Lei, vice president of Didi Kuaidi, said it's difficult for China's traditional car sellers to gain accurate customer information and turn potential buyers into actual buyers, but the data and networking capabilities from Didi's test drive platform can accurately grasp customer car use and purchasing needs.
Positioned between car manufacturers and dealers, Didi Kuaidi is in the best position to create customized intermediary services by using the platform to provide peer-to-peer information and experience sharing, Zhu said.
He added that Didi Kuaidi aims to contribute to the transformation of the car industry, seeking to help customers gain accurate information about vehicles and a comprehensive transportation experience expanding beyond car services to other transportation options.
Car sales slowed this year amid economic slowdown and purchase restrictions, bu China remains the world's largest automobile producer and consumer, with output and sales both exceeding 21 million vehicles from January to November 2015.