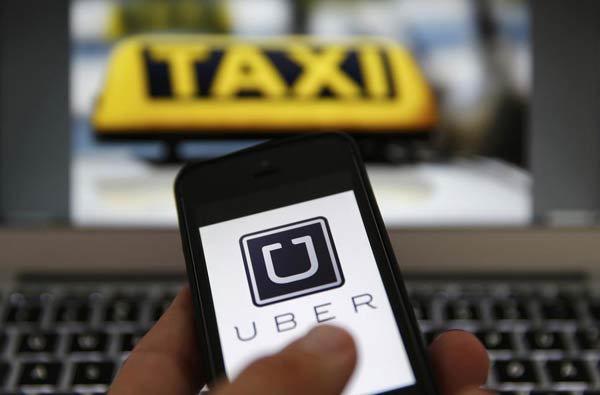 A file illustration picture shows the logo of car-sharing service app Uber on a smartphone next to the picture of an official German taxi sign in Frankfurt, September 15, 2014. [Photo/Agencies]
Car-hailing provider unveils multi-pronged strategy for growing its presence in China
Online car-hailing provider Uber Technologies Inc said on Wednesday that it will up the ante in China from next year onwards to quell the threat from local challengers such as Didi Kuaidi.
The United States-based company said its China arm will launch new services, expand into more cities, make new investments and appoint its first China chief executive soon.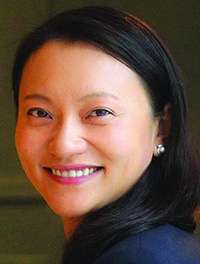 Liu Zhen, strategic officer of Uber Technologies Inc's China operations. [Photo provided to China Daily] 
Liu Zhen, the "strategic officer" who oversees the company's China operation, said the San Francisco-based mobile application provider is transforming into a localized firm with many Chinese investors, China-specific products and a local management team.
"Uber is fully localized in China. Since other Chinese Internet companies also receive overseas investment, we are no different from them in capital levels," Liu said, dispelling doubts that overseas tech companies may find the going tough in China.
In October, Uber announced a plan for $1 billion investment in the country and set up an independent China branch in Shanghai, trying to play down its overseas company status.
Liu said both Uber and its China subsidiary will soon release the names of Chinese investors. She did not give the exact date, saying it was subject to the company's global team.
Liu also said Uber will announce a China CEO more than a year after it entered the market, but refused to provide a timetable. Liu, who joined Uber in April, currently leads the China operation.
Expansion will be the buzzword for Uber China in 2016. The company is in cut-throat competition with Didi Kuaidi and other players for passengers and drivers.
Didi Kuaidi, backed by tech giants such as Alibaba Group Holding Ltd and Tencent Holdings Ltd, is operating in more than 100 cities while Uber only reaches 21 as of today.
Cities with more than 2 million population will be a potential target for Uber in the next year, according to Liu. China has at least 250 cities that fit the size.
The company said its market share in the chauffeur services sector grew from about 2 percent to 35 percent over the past nine months.
Didi Kuaidi also claimed a majority share, but both claims lack third-party support.