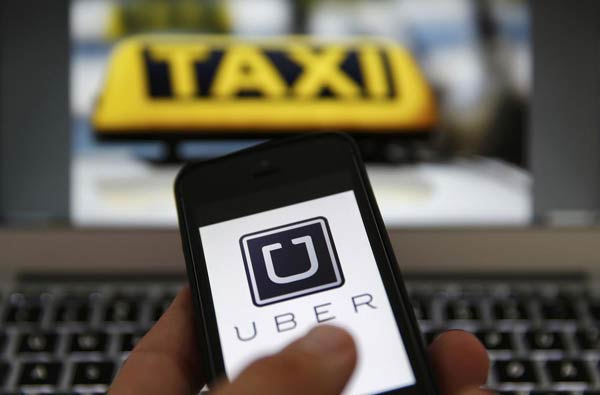 A file illustration picture shows the logo of car-sharing service app Uber on a smartphone next to the picture of an official German taxi sign in Frankfurt, September 15, 2014. [Photo/Agencies]
Uber Technologies Inc, the United States-based car-hailing major, said on Thursday that it would invest an additional 6.3 billion yuan (about $1 billion) for expanding its operations in China and also set up a new unit in Shanghai.
By stepping on the accelerator, the San Francisco-based company plans to expand its services to about 100 Chinese cities in the next 12 months. It currently operates in 21 cities, transporting more than 1 million passengers every day.
The privately owned company said its latest investment-with no details on when it would be completed-will be used to support Uber's "long-term, stable development" in China.
Liu Zhen, who is responsible for Uber's China strategy, said the company is working out the modalities for a formal license that will allow it to provide online car-booking services on a nationwide basis.
Didi Kuaidi has received a license from the transportation authority in Shanghai that allows privately registered cars to run for-profit trips in the city.
Uber was a remote No 2 in the chauffeur service market in the first half of this year, according to Beijing-based research company Analysys International. Its 14.9 percent market share lags far behind Didi Kuaidi, which controlled more than 80 percent of market.
The US company, however, said that it has a much bigger market share in the country and terms itself a market leader. Chauffeur services have been a major battlefield for Uber. The company had heavily subsidized drivers and passengers earlier this year to build up its presence.
Uber also established a new subsidiary in the China (Shanghai) Pilot Free Trade Zone that the central government uses to attract foreign investment and test new micro-economic policies. Uber hopes that the new company, named Wubo, or "mist abundant" in literal translation, will reduce emissions from automobiles by promoting ride-sharing business and eventually, build a closer relationship with the government.