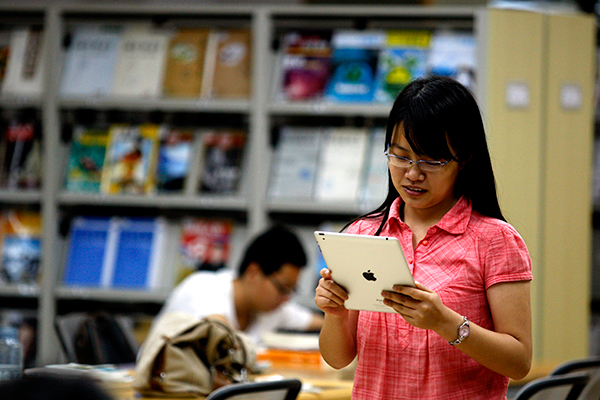 A student in Beijing uses her iPad to search for information. Some students are turning to loans to supplement their lifestyles. [Photo/China Daily]
Zheng Dexing died on March 9. The college student from Henan province committed suicide after accumulating loans worth 589,500 yuan ($91,000) to pay for his gambling addiction.
Yang Bo, a junior in Southwest China's Guizhou Normal University, wanted to go on vacation to Guangdong province, so he resorted to a loan of 5,000 yuan.
"The loan makes it a lot easier to travel," Yang said. "I just pay 500 yuan or so monthly to pay it back."
More and more college students are turning to loans to supplement their lifestyles. To apply, students must disclose certain information about themselves and their parents for the loan to be verified.
Should a monthly repayment be missed or late, the interest rate is increased.
"It took me less than an hour to complete the application online," said Zhang Zeming, a freshman from eastern China's Fujian province. "For new applicants, the loan is interest free."
Students from more than 50 universities were surveyed by Capital Campus Press Union in January, of the respondents, 63 percent have applied for loans online, 85 percent of which did not want their parents to be involved.
"It feels awkward for me to ask my parents for that much money because I am a student," admitted Zhang, who applied for a loan to buy a laptop computer.
Apart from travel and shopping, loans have also been used to start or invest in businesses. Li Hailang, a college student from the Ningxia Hui autonomous region, used his loan to open a restaurant near his school.
"Online loans can stimulate consumption," said Li Yuansheng, an economics professor at Fujian Normal University. "College students tend to spend more on digital devices, but lack the spare funds, this is where loans can help."
Also, from a lender's perspective, college students are a huge market, with a preference for short-term purchases, according to Kang Jun, a professor at Hunan University.
However, loans are not all about benefits: Take the sad story of Zheng Dexing. He was just one of a number of students who rely on loans to live beyond their means.