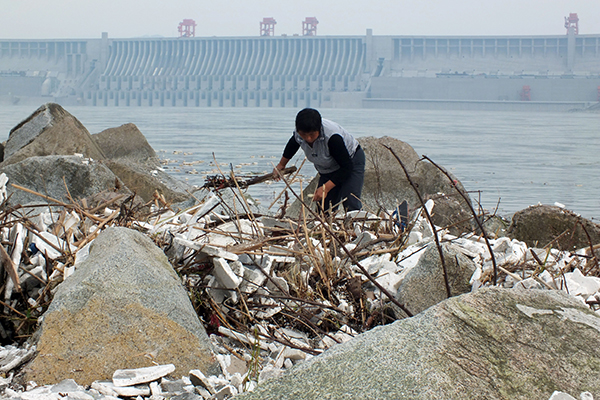 A garbage collector in Yichang, Hubei province. The collectors help ensure that more than 75 percent of the water in the Yangtze economic belt meets standard. [Photo/China Daily]
Li Shichao, a native of Wuhan on the Yangtze River in Hubei province, has always been fond of water and ships. On World Water Day, observed annually on March 22, he sat in front of monitors watching vessels pass through the Three Gorges Dam, the world's largest hydropower project. For him, it was just another Tuesday.
The theme of this year's World Water Day was water and jobs. According to the United Nations, 1.5 billion people work in water-related sectors.
Li, a vessel dispatcher, is one of them. After graduating in 2014 from the Navigation School of Wuhan University of Technology, the 27-year-old started working at the Three Gorges Dam as a dispatcher, responsible for planning lockage, sending directives and monitoring.
"Just like at an airport terminal, where inbound and outbound planes are directed, we dispatch the ships that pass through the locks," he said.
The Three Gorges project, located on a stretch of the Yangtze in Yichang, Hubei province, consists of a 2,309-meter-long and 185-meter-high dam, a five-tier ship lock and 26 hydropower turbo-generators. Its functions include water storage, flood control, transportation and power generation.
According to Li, a dispatcher's workload can be seen as a barometer of China's economic development.
"I heard from my senior colleagues that it used to be not so busy until a boom in shipping services in recent years," he said, adding that they currently provide dispatching services for 150 cargo vessels every day.
Last year, 119.6 million metric tons of cargo were transported through the Three Gorges, 8.7 times as much as in 2003, when the project started operating.
The economic belt will push for breakthroughs in innovation, industrial restructuring and economic development by 2020, according to a blueprint document released earlier this month.
Zhang Hong, a water-quality inspector, is also much busier than before.
Zhang, 49, is head of the environmental monitoring station at Zigui county on the upper reaches of the Yangtze, just before the river flows into the Three Gorges.
She and her co-workers are responsible for collecting water samples, laboratory analysis and reporting. They monitor the Yangtze, its seven tributaries in the county and groundwater.