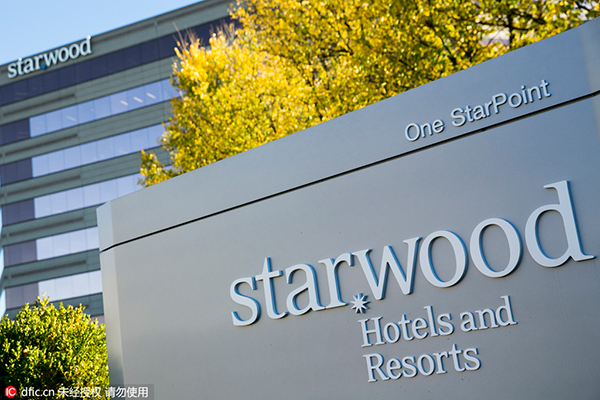 A logo sign outside of the headquarters of Starwood Hotels and Resorts Worldwide Inc in Stamford, Connecticut, the US, November 20, 2015. [Photo/IC]
NEW YORK - Starwood Hotels & Resorts on Monday announced that it had received a revised proposal from a consortium led by China's Anbang Insurance Group.
Starwood received a nonbinding proposal from the consortium consisting of Anbang, J.C. Flowers & Co and Primavera Capital for $81 per share in cash on Saturday. Yet in discussions over the weekend, the consortium improved the bid to $82.75 per share in cash, totalling some $14 billion.
Pursuant to separate agreements previously entered into by Starwood, Starwood stockholders would receive additional $5.91 per share in stock for a spinoff of a vacation business. On this basis, Anbang's newest offer will be $88.66 per share, beating Marriott's offer of $79.53 per share.
Starwood said it was continuing to discuss nonprice terms related to the consortium's revised proposal and was working to finalize the other terms of a binding proposal from the consortium, including definitive documentation.
"The Starwood board, in consultation with its legal and financial advisors, will carefully consider the outcome of its discussions with the consortium in order to determine the course of action that is in the best interest of Starwood and its stockholders," Starwood said in a statement.
Starwood is one of the world's leading luxury hotels and the owner of the Westin and Sheraton brands with nearly 1,300 properties in some 100 countries and approximately 188,000 employees.
Anbang is one of the largest insurance groups in China. According to the company, Anbang managed total assets of 1.65 trillion yuan ($250 billion).
The Chinese insurer has made headlines with the acquisition of Waldorf Astoria, the landmark hotel on Park Avenue in New York City in October 2014. Under the agreement, Anbang purchased the iconic luxury hotel for $1.95 billion from Hilton Worldwide Holdings.