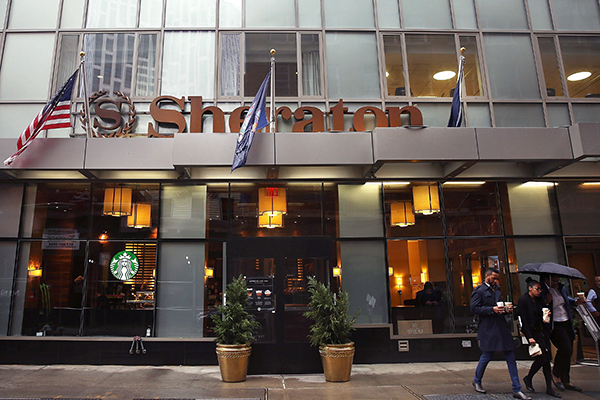 People walk pass a Sheraton Hotel in downtown Brooklyn in New York City. Sheraton is a member of Starwood hotel chain.[Photo/Agencies]
Marriott International Inc won over Starwood Hotels & Resorts Worldwide Inc with a sweetened bid worth more than $14.4 billion, just days after a Chinese insurance company appeared to steal it away from the hotel chain with a more lucrative offer.
Starwood, which owns Sheraton, Westin and St. Regis, over the weekend became the first US hotel operator to gain access to Cuba, a day before the arrival of President Barack Obama. It is the first visit to Cuba by a sitting president in almost 90 years as relations between the two nations thaw.
The revised deal would give Starwood shareholders $21 in cash and 0.80 shares of Marriott Class A stock for each Starwood share. Starwood shareholders are also expected to get Interval Leisure Group stock valued at $5.83 per share. Taken together, that would value Starwood stock at $85.36 per share, or about $14.41 billion.
Just days ago, Anbang Insurance Group Co put up an offer of $83.83 for each Starwood share, or approximately $14.15 billion. Starwood stockholders would have received $78 in cash for each share they own plus $5.67 in stock for a spinoff of a vacation business.
Anbang made a dramatic entry into the United States two years ago when it bought the famed Waldorf Astoria in New York for almost $2 billion. Days before it contested Marriott for control of Starwood, it laid down $6.5 billion to acquire Strategic Hotels & Resorts Inc, which owns several high-end properties, including the JW Marriott Essex House in New York and Hotel Del Coronado in San Diego.
Starwood, based in Stamford, Connecticut, offered a unique opportunity for Marriott because the hotel chain put itself up for sale. Marriott, based in Bethesda, Maryland, said one of the key assets Starwood brought to the deal was its much loved loyalty program-Starwood Preferred Guest.
Marriott said on Monday that it is confident that it can achieve $250 million in annual cost savings within two years of closing on the Starwood transaction. That's $50 million more than in estimated in November, when it gave its initial offer to Starwood.
Marriott and Starwood still anticipate the deal closing around midyear, assuming it receives the necessary approvals.
Shares of Starwood gained $2.43, or 3 percent, to $83 before the market open.