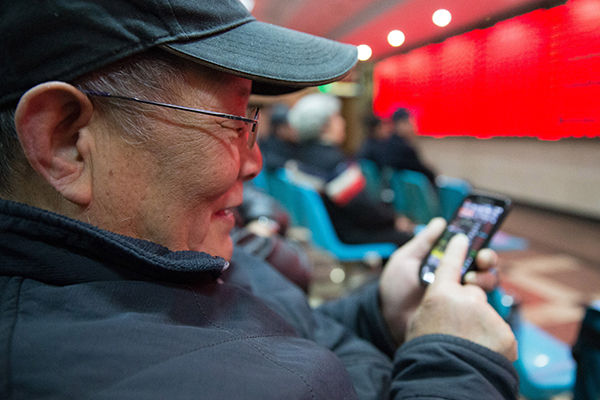 An investor browses stock information with his smartphone at a brokerage in Nanjing, Jiangsu province. [Photo provided to China Daily]
SHANGHAI - The Shanghai Stock Exchange on Monday said it had, for the first time, delisted a company for breaching rules on information disclosure.
The move was welcomed by investors as the stock regulator moved to crack down on fraud to restore investor confidence.
An investigation found that Boyuan's violation was "very grave," the bourse said in a statement.
Zhuhai Boyuan Investment Co forged bank's acceptance bills to cover up 380 million yuan ($58.7 million) in earnings its controlling shareholder had failed to pay. Meanwhile, it inflated assets, revenues and profits.
The delisting highlights the China Securities Regulatory Commission's zero tolerance of major violations, it said.
Hopefully the move will encourage listed companies to disclose information in accordance with rules and this could help better protect investor's legitimate rights and interests and promote the stable and healthy development of the capital market, it added.
The China Securities Regulatory Commission launched an investigation into the case in June 2014 and handed it to the police in March 2015.
Boyuan received a delisting warning on March 31, 2015 and halted trading of its shares on May 25 the same year.