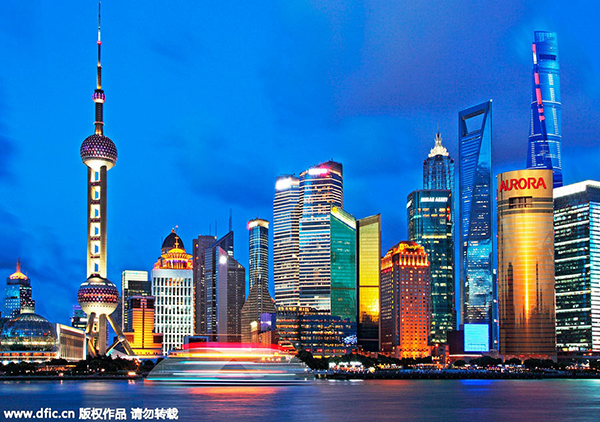 The file photo shows the Shanghai Tower, China's tallest skyscraper, in Lujiazui, the financial and trade zone in Shanghai. [Photo/IC]
Shanghai government announced its decision on Monday to lower social security premium contributed by companies by 2.5 percentage points, making it the seventh region to launch similar easing measures.
Such decision is expected to lighten corporate burden by about 13.5 billion yuan ($2.1 billion) this year, according to a government announcement.
The city will slash the premium rate contributed by companies for mandatory pension by 1 percentage point, medical also by 1 percentage point and unemployment insurance by 0.5 percentage point, while maintaining the same level of social security benefits.
Five provinces, Guangdong, Yunnan, Gansu, Guizhou and Jiangsu, together with Tianjin municipality, have reduced the social security premium on companies' behalf, in a drive to boost real economy.
Guangdong province cut the premium rate for unemployment, medical and working injury insurances, saving corporate expenditures by 35 billion yuan ($5.39 billion).
According to a government guidance released last month, Tianjin will lower companies' contribution to social insurances by a combined 1.43 percentage points.
Chongqing municipality and Qinghai province are planning to be the next two, reported the 21th Century Business Herald, as the regions have brought up such cuts on agenda as part of the supply-side reform.
Shanxi, Hunan and Shandong provinces are studying to combine the medical insurance and maternity insurance, and will likely launch the guideline later this year, said the newspaper.
Maternity and medical insurance premium currently total 8 to 10 percent of monthly salary, and by combining the two, the premium will be lowered modestly, Qi Chuanjun, deputy secretary general of the center for international social security studies at the Chinese Academy of Social Sciences, told the newspaper.
The move comes in response to a general cry for easing corporate burden by government officials and scholars, as Chinese employers are reportedly burdened with one of the highest social security obligation in the world.
Total payment, including pension fund, medical insurance and housing provident fund, amounts to 44.1 percent of an employee's monthly salary.