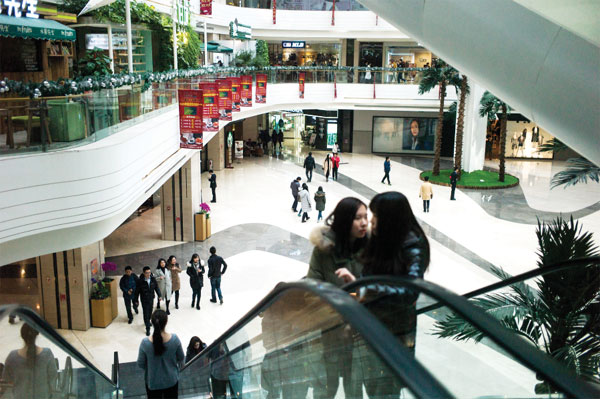 Shoppers at a mall in Beijing on Feb 25. The Boao Forum for Asia takes place at a challenging time for the Chinese economy, with the country lowering its growth outlook for two years running. [Photo/Agencies]
With an economic future that is quite different from its past, Asia's growth and development are being shaped by a new vision of what can be accomplished. At least, that is the vision that underlies this year's annual conference of the Boao Forum for Asia (BFA).
Running from March 22-25 at its permanent seat in South China's Hainan province, the forum will put a spotlight on the region's changing economic and policy environments and the new approaches and dynamics to global trade generated by the changes.
The theme of this year's conference is Asia's New Future: New Dynamics, New Vision. The focus will be on areas such as inclusive finance, disruptions of traditional businesses and economic models, new banking practices, regional cooperation and growing links through reforms and initiatives such as the Asian Infrastructure Investment Bank (AIIB).
"In the context of fundamental changes in the world economy, Asia and emerging economies have found themselves in completely different internal and external environments," said Zhou Wenzhong, secretary general of the BFA.
These new environments challenge the region's "innovation-driven development endeavors and governance models", he added.
Environmental concerns also make up a big part of the agenda, with discussions involving both government and business leaders that will focus on how businesses can grow while minimizing the negative impact these firms have on their surroundings.
Representatives meeting next week will have an eye on the changing economic outlook for Asia, not only in terms of growth prospects but also new economic models. However, fresh in their memory will be the turbulent start to 2016 as energy and commodity prices, equity markets, currencies and interest rates took a hit.
A total of 83 sessions, including 51 forums, 14 roundtables, six themed dinners and 12 entrepreneur dialogues will be rolled out for the conference.
As it has done every year since its launch in 2002, the BFA will bring together political leaders, business and academia, investors, the media and new economy communities — such as e-commerce and crowdfunding ventures.
Among the speakers will be heads of state and government.
The BFA was first proposed in 1998 by leaders from the Philippines, Australia and Japan and was inaugurated in 2001, with its permanent headquarters funded by the People's Republic of China.
The conditions in Asia are now quite different from when the forum launched, as is the outlook for development and growth.
Today, Internet penetration and e-commerce are widespread, telecommunications infrastructure has improved by leaps and bounds, and new economic models are making regional or global supply chains the standard benchmark for businesses.